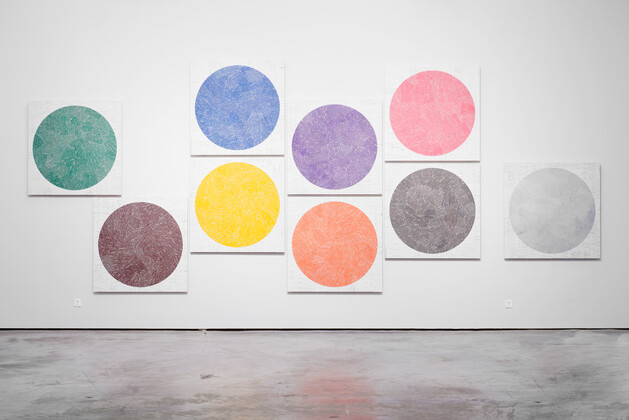 SHEN FAN 申凡
2014 ~ 2015
344*724cm (in 9 pieces)|EACH 120*120cm
Mixed media on paper
code:
SF_3939
Wu Speech
, China Art Museum, Shanghai,
05.16, 2016 - 05.16, 2017
Introduction
SHEN Fan's works might be considered as the documentary of personal experience from the fragmentary invariable changing daily life. As a spectator, he adjusts themes of works along with the shift of life, amends the approach and pattern of how subject implements along with varied subjects, and regarding them as an interpretation of an existence.
Shen Fan was born in 1952 in Shanghai. He graduated from Shanghai Light Industry Institute, Fine Arts Department in 1986. He resides and works in Shanghai. Selected exhibitions include The End of the Brush and Ink Era: Chinese Landscape, True Color Museum, Suzhou(2011); Shanghai, Asian Art Museum, San Francisco, U.S.A.(2010); Out of Shanghai, Museum gegenstandsfreier Kunst, Otterndorf, Germany (2009); Shanghai Kaleidoscope , Royal Ontario Museum (ROM), Toronto, Canada(2008); 6th Shanghai Biennale - Hyper Design, Shanghai Art Museum, Shanghai (2006); Alien Illusion, Shanghai Art Museum, Shanghai (2005); Chinese Maximalism, Millenium Art Museum, Beijing(2003); The Paintings of Shen Fan – Pioneering Abstraction from Shanghai, Goedhuis Contemporary New York, U.S.A.(2002); Shanghai Abstract Art Group Show, Liu Haisu Art Museum, Shanghai(2002); Metaphysics 2001, Shanghai Art Museum, Shanghai(2002) etc. Recent solo exhibition include Landscape 9210, SHEN Fan Solo Exhibtion, ShanghART H-Space, Shanghai(2012); Shen Fan's Videos and Paintings Exhibition, Galerie Carol Johnssen, Munchen, Germany(2011); I have Been Here , Usher Gallery;The Coletion of Lincoln, Lincoln, U.K.(2009).