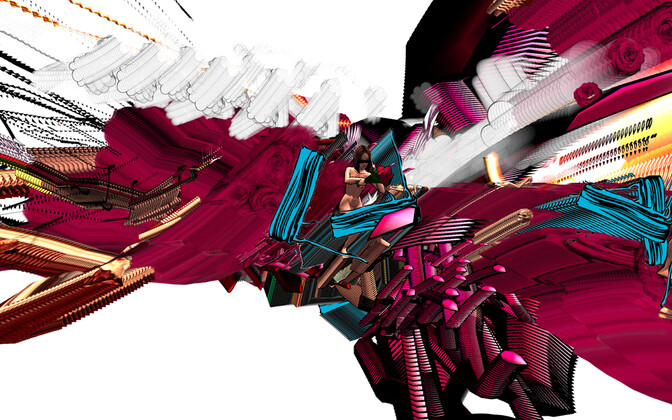 Q 2008
Introduction
Feng Mengbo
Feng Mengbo was one of the first Chinese artists to develop an interest in global networking, the virtual world and their effects on human behavior. Since the early 1990's, he has worked at the intersection of painting and digital media.
Feng Mengbo's first two animations are based on popular picture books filled with violent imagery published in 1969 and 1972, respectively. The third animation, "The Technology of Slide Shows," derives from a book of that same title published in 1982 that documented methods developed by the People's Liberation Army for creating animation effects with slide projections, that, in the absence of television and film, provided a major source of entertainment during Feng Mengbo's youth. Likewise, four oil paintings "Street Fighter I-V" take their name from a widely popular computer game but reference particular aspects of Chinese history and political development: while characters in the painting resemble those from the original game, the characters in the painting are dressed in PLA uniforms. By inserting the Chinese military into the context of a violent computer game, Feng Mengbo indirectly critiques the system in power.
Feng Mengbo employs a new method of using the computer game as a critical tool for a recent series of photographs: for these works, he incorporates himself in a game that involves fighting and shooting some imaginary evil power. With a kill or be killed mentality, what is presented as a virtual game might very well be regarded as a mirror for 'real' people struggling against the rigid and omnipresent Chinese official organization of control. Feng Mengbo's photos have a slight antagonistic quality – urgent, almost hostile and often reaching witty heights of passive aggression. His works often are not what they seem, revealing much more beneath the deceivingly quiet surface.
Feng Mengbo was born in 1966 and initially trained as a printmaker at the Central Academy of Fine Arts, Beijing. He began working withs digital in the early 1990's. Feng Mengbo has participated at Documenta 10 and 11 (Kassel) and held solo exhibitions at Holly Solomon Gallery (New York), Haggerty Museum (Milwaukee), DIA Center for the Arts (New York) and Renaissance Society (Chicago), among others.