SHAO Yi Solo Exhibition: Shao Yi Is Here
Solo Exhibition ShanghART Beijing, Beijing
Date: 05.01, 2016 - 06.12, 2016
Artists:
SHAO Yi 邵一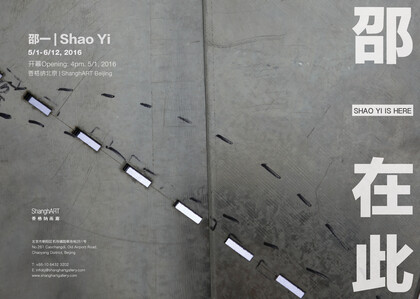 Opening: 1st May 2016, 4pm- 6pm
Duration: 1st May 2016 – 12th June 2016, 11am – 6pm (Closed on Monday)
Address: ShanghART Beijing, 261 Cao Chang Di, Old Airport Rd., Chaoyang District, Beijing, China
Contact: infobj@shanghartgallery.com | + 86 10 6432 3202
ShanghART Beijing will be honored to present artist Shao Yi's solo exhibition Shao Yi Is Here on 1st May, 2016. The exhibition will present the artist's latest installation works and will last to 12th, June.

Shao Yi's works always contain his thinking, utilizing of "objects" and materials. In the context of post-Industrialization, he reviews and reinterprets Chinese traditional cultural elements, taking advantage of simple or even shabby materials, such as metal, glass, wood, stone and mechanics and etc., to make them have qualitative changes and bring out new works by the method of breaking and reconstructing, transforming and creating. These works are sharp or implicit, heavy or light, thrilling or thought-provoking. And they artfully blend traditional civilization and industrial civilization together, connecting the past, now and future, therefore building a spiritual symbolic world of Shao Yi.

Different from the "construction site" of Totem Producing, Shao Yi IS Here is a panorama of Shao Yi. Shao Yi IS HERE regards the works as pencils, bricks and gestures of Wugong. He stretches his self-portrait and lays fresh and blood on it until it's vivid. He builds his spiritual world in the chaos, producing totem, firming beliefs. He practices his attitudes towards life and aesthetics, sometimes a heavy punch, and sometimes a gentle touch, and has a degree of relaxation and pace.

Shao Yi Is Here is a declarative time section, anchoring Shao Yi and his works at this moment. The Back is past and the front is future.

Shao Yi Is Here, right now, right here, right himself.
---
Press Release:
Related PDF:
Works Exhibited :
---
办公地址:上海市徐汇区西岸龙腾大道2555号10号楼
© Copyright
ShanghART Gallery
1996-2017

沪公网安备 31010402001234号