Apichatpong Weerasethakul: Luminous Shadows
Solo Exhibition The Contemporary Art Centre (CAC), Vilnius, Lithuania
Date: 02.02, 2018 - 04.01, 2018
Artists:
Apichatpong WEERASETHAKUL 阿彼察邦·韦拉斯哈古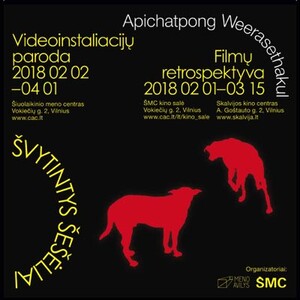 'Luminous Shadows' is Thai filmmaker and artist Apichatpong Weerasethakul's first solo exhibition in the Baltic States. This exhibition is part of a larger project 'Luminous Shadows: Selected Installations & Film Retrospective of Apichatpong Weerasethakul'.

In the artist's own words, the project 'reveals different memories of light. Some of the works are an investigation of my home-region of Isan in northeastern Thailand. Some are dreams. Some are simply looking. But all of them are personal.' His films and video installations form a multi-layered universe where characters and themes travel from one work to another. The exhibition in the CAC's Great Hall presents video works and installations the artist has created over the last fifteen years.

Weerasethakul's work is a subtle examination of history, memory, power and freedom. It is inseparable from Thailand's history and political reality – his native region and its people feature in many of his films and video installations. Weerasethakul is concerned with the ties between past and present that shape Thailand today. He often speaks of the social challenges of the contemporary world and gives voice to those silenced by history and marginalised by society. At the same time, his work possesses a distinct language of magic and playfulness.

Glowing dogs, a blazing screen, a dim lantern or popping fireworks create a metaphor of fragmented human consciousness. Dreams and memories, realism and surrealism, politics and mythology intertwine, not as opposites but rather as variations of the same phenomenon.

In parallel to the exhibition, Weerasethakul's film retrospective will run at the CAC Cinema and Skalvija Cinema Centre during which all eight of the director's feature films and four short film programmes will be screened.
---
---
办公地址:上海市徐汇区西岸龙腾大道2555号10号楼
© Copyright
ShanghART Gallery
1996-2017

沪公网安备 31010402001234号