Yang Fudong "Dawn Breaking" , A Museum Film Project
Solo Exhibition Long Museum West Bund, Shanghai
Date: 03.23, 2018 - 06.03, 2018
Artists:
YANG Fudong 杨福东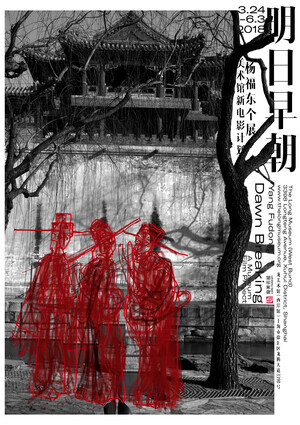 艺术家 | Artist
杨福东 YANG Fudong
展名 | Title
明日早朝 - 2018美术馆新电影计划
Dawn Breaking - A Museum Film Project 2018
展期 | Duration
2018.3.24 - 6.3
地址 | Location
上海龙美术馆 (西岸馆)
The Long Museum (West Bund)
The artist Yang Fudong will soon exhibith is solo show "Dawn Breaking" at Long Museum, which is also the first episode of his new museum film project. Different from previous exhibitions,Yang Fudong creatively set the field of filming in the exhibition hall of an art museum, and the process of shooting the film will be main part of the exhibition. The entire exhibition consists of three main sections, "Dawn Breaking" filming location, "30-day Daires at dawn", and the "Tower of Life". The artist will continue to shoot at museum for one month after the opening, and will gradually show the film completed in the "Dawn Breaking" Dairy section, these films and Nietzsche's philosophic epigrams are intertwined in the course of time. Moreover, the casting of the strong line up like Tan Zhuo, Lv Yilai, will undoubtedly become an unmissable sight line for the exhibition site. Themed as"The Light That I Feel" on the second floor's photography section showcases many of his important black-and-white photography from 2005-2014. "Dawn Breaking" outlines a narrative scene of the dawn of a day, when all the top civil and ministers waited for emperor deliberating on political and domestic issues. The background of this exhibition focuses on the Song Dynasty that was full of internal and external chaos, but with culture, art, science and technology blooming. The 11-meter-tall wooden pagoda built in the exhibition space is inspired by the setting of the Song Dynasty palace courtyard. The artist is remodeling the scene of the officials' going to court at dawn, which creates a personal realistic impression of the intellectuals and scholars' feelings towards the Song Dynasty.


Yang Fudong subversively presents the shooting scene of the film in the public space of the museum, and the accuracy of the film shooting and the occasional visit of the tourists will jointly complete this video work. It will be a different way of seeing for visitors, shooting and viewing in the same frame, which constitutes the most fluctuating and fluid viewing features of the exhibition itself. As the artist Yang Fudong said: "The entire exhibition is like a huge installation space with live performance".


YANG Fudong: A Museum Film Project

Yang Fudong's museum film project was conceived back in 2009 during his visit to New York Metropolitan Museum of Art. After ten years of brewing, this plan is officially launched soon. The unique method of making films in an art museum is bound to stir up multiple boundaries in the field of contemporary art. For Yang Fudon, it is also a great challenge to his artistic practice.
---
Selected Press:
Works Exhibited :
---
办公地址:上海市徐汇区西岸龙腾大道2555号10号楼
© Copyright
ShanghART Gallery
1996-2017

沪公网安备 31010402001234号