'BANDI PANDA' Shop Opening at 798 Art Zone Beijing
Solo Exhibition BANDI PANDA Shop 798 Art District, Beijing
Date: 2008 - 2010
Artists:
ZHAO Bandi 赵半狄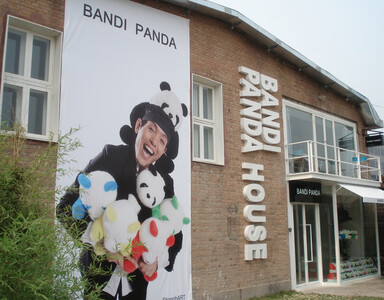 outside view of the shop
Tel: +86-10-5978 6949
Fax: +86-10-6432 4395
Opening hours: 10am – 6pm daily
BANDI PANDA' Shop Opening: The first 'BANDI PANDA' shop will be officially opened on June 22nd, 2008 in 798 Art District, Beijing. There will be a small reception held to celebrate for the launch of the new brand.
Following up on his 'BANDI PANDA' fashion show during China International Fashion Week which triggered 'fashion earthquake' in China, artist Zhao Bandi is now involved in the field of fashion and will meet fashion consumers with his own products. In the new opening store, a series of fashionable T-shirts and accessories will be presented. In addition, the series of colourful panda plush toys which are specially designed for 2008 Beijing Olympics as Zhao Bandi's 2008 Mascots will be on sale in the new shop. Located in the 798 Art District (pass UCCA on main street, turn right at the end), 'BANDI PANDA' shop is designed simply yet classical..
'Fashion consumers can get one of the first batch of keepsakes from BANDI PANDA's first shop', said Zhao Bandi.
buy online
http://arty.cn/arty/books/bandi.htm;jsessionid=f1e9c4c703c827dc1673f72e67df
---
Press Release:
Related Texts:
Works Exhibited :
Links:
---
© Copyright
ShanghART Gallery
1996-2015
沪ICP备05006505号 Browser locale:en_US.
310107100040900