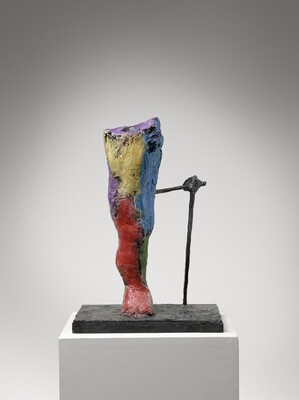 Markus Lüpertz (b.1941)
2009
45*31*25cm
Edition of 6
code:
OT_5489
In 2010, Markus Lüpertz saw the installation of his largest work to date: weighing twenty-three tons and standing at a prodigious 1,829cm, Lüpertz's Hercules now looms atop a mine shaft in the city of Gelsenkirchen, a former mining metropolis in the Ruhr region of Germany. Despite its triumphant heft, Lüpertz's Hercules is far from the character's classical depictions. Missing an arm and decorated with bright red lips and a garish blue tangle of hair, Lüpertz's figure subverts traditional renderings of the hero. Unfettered by the shackles of classicism, Lüpertz's Hercules is free to struggle — and triumph – with human vulnerability; a demigod in the true likeness of man.

The exhibited leg here is one of the sculptural and drawn models (or "bozzetti") of the Gelsenkirchen Hercules. Amputated bronze figure stands balanced with parts painted in incongruently bold colors. The fractured figure simultaneously represents the trials of Hercules as well as that of the artist. The work depicts an intersection of forms and ideas, a delicate balance of the sacred and profane.

*Hercules: Hercules is the Roman name for the Greek divine hero Heracles, who was the son of Zeus (Roman equivalent Jupiter) and the mortal Alcmene. In classical mythology, Hercules is famous for his strength and for his numerous far-ranging adventures. Hercules was a multifaceted figure with contradictory characteristics, which enabled later artists and writers to choose how to represent him.
Detail pictures:
Related Exhibitions:
Holzwege
ShanghART, Shanghai
11.09, 2016 -03.09, 2017