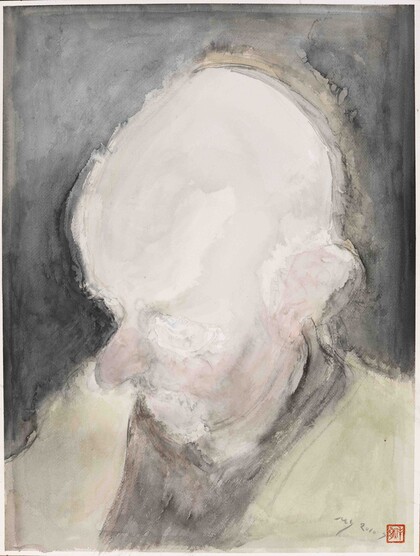 MAO YAN 毛焰
2010
Watercolor Paper 300 g with grain, Writing brush
46(H)*61cm
MYU016
Introduction
Mao Yan has emerged in recent years as one of the most dynamic Chinese painters. Although the genre of portraiture is not commonly encountered in Chinese art, it manifests with both Eastern and Western sensibilities in Mao Yan's work. His expressive style and controlled palette reflect a connection to the aesthetic and cultural climate of China as well as the influence of 20th-century American conceptual art. His canvasses are typically bi-chromatic in either black and white with deep shades of brown. With a mastered economy of marks, he delineates his compositions with broad, sweeping gestures and visible drips, resulting in images that at times dissolve into near-abstraction. His brilliant use of light and shadow, colours and texture makes him stand out. Each of his paintings convey complex feelings and features his persistent concentration.
Mao Yan's latest (2010) series of work was created during his residency at Glenfiddich distillery in Scotland. The new series still feature human portraits, to be more specific, portraits of staff members of the local distillery. During his stay at Dufftown, he spent a lot of time chatting with and observing those workers and was deeply impressed by their optimism and simplicity, which laid a foundation for the main tone of this new series. On the one hand, they appear to be absorbed with their own thoughts. On the other hand, all these portrayals, collectively, make viewers sense the presence of awe. The sense of reality given out by oil painting and sense of poetic fantasy given out by watercolor are perfectly integrated together. Whichever form is adopted, every person possesses the elegance and uniqueness of his own.
Mao Yan (b. 1968) lives and works in Nanjing. He graduated from the Oil Painting Department, China Central Academy of Fine Arts, Beijing in 1991. Recent exhibitions include Face, Minsheng Art Museum, Shanghai (2012); In Time-2012 Chinese Oil Painting Biennale, National Art Museum of China, Beijing(2012); Thirty Years of Contemporary Art, Minsheng Art Museum, Shanghai (2010); the First China–Contemporary Documenta Reshaping History, China National Center, Beijing (2010); China Mania, Arken Museum of Modern Art, Copenhagen, Denmark (2009); Longing for More–Mao Yan Solo Exhibition, Shanghai Art Museum, Shanghai (2009).
上海香格纳文化艺术品有限公司
办公地址:上海市徐汇区西岸龙腾大道2555号10号楼
© Copyright
ShanghART Gallery
1996-2022

沪公网安备 31010402001234号