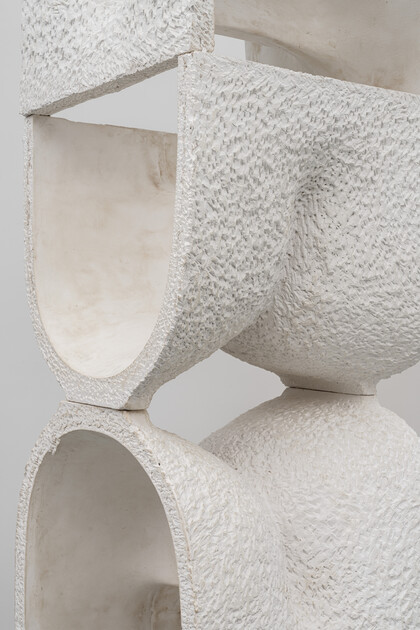 Interim Space, Containers
, Abandoned wharf next to Pujiang Town Country Park, Binjiang South Road, Minhang District, Shanghai,
11.08, 2023 - 12.30, 2023
Introduction
Su Chang (b. 1985) was born and raised in Shanghai. He graduated from the Oil Painting Department of Shanghai Normal University in 2007. Su Chang employs sculpture as a means of artistic experimentation, emphasizing a reevaluation of the intrinsic nature of the medium throughout his ongoing work. He aims to digest and create a new visual language based on ordinary elements. Through his artworks, Su Chang examines the fluctuation of individuals within the intersection of public and personal anxieties, as well as the psychological imprints left by such ambiguous behaviors.
His recent solo exhibitions include "Breathe Continuously" at Fosun Foundation, Shanghai (2021); "Hole" at ShanghART M50, Shanghai (2021); "Sculptural Practice" at West Bund Art & Design Special Exhibition, Shanghai (2020); "Temporary Space" at Sifang Art Museum Project Space, Shanghai (2018); "Way Out" at Guangdong Museum of Art, Guangzhou (2018); "Breath" at AIKE, Shanghai (2017); and "Trails" at Don Gallery, Shanghai (2015). Notable group exhibitions featuring his work include "Endless Moment" at WS SPACE, Shanghai (2022); "My CASA" at AD, Shanghai (2022); "Group Show" at 39+ Art Space, Singapore (2022); "Diving Deep for Light into Darkness" at Beiqiu Museum of Contemporary Art, Nanjing (2022); "2021 SUSAS (Shanghai Urban Space Art Season)" in Shanghai (2021); "Daily" at Liaigre, 796 Middle Huaihai Road, Shanghai (2021); "EXIT PLAN" at SNAP, Shanghai (2019); "Road to the Unconscious" at Peres Projects, Berlin, Germany (2019); "WHY WHITE" at Small Art Museum, Shanghai (2018); "Primitive Elements" at ANNEX Space, Fosun Foundation, Shanghai (2018); "Shanghai Galaxy II" at YUZ Museum, Shanghai (2017); "We: A Community of Chinese Contemporary Artists" at Chi K11 Art Space, Shanghai (2016); "Glenfiddich Artists in Residence Programme" in Scotland (2015); and "Reversed Images: Representations of Shanghai and Its Contemporary Material Culture" at the Museum of Contemporary Photography, Chicago (2009). One of his recent projects is "Picnic" at Dots Project, Shanghai (2021).
上海香格纳文化艺术品有限公司
办公地址:上海市徐汇区西岸龙腾大道2555号10号楼
© Copyright
ShanghART Gallery
1996-2022

沪公网安备 31010402001234号