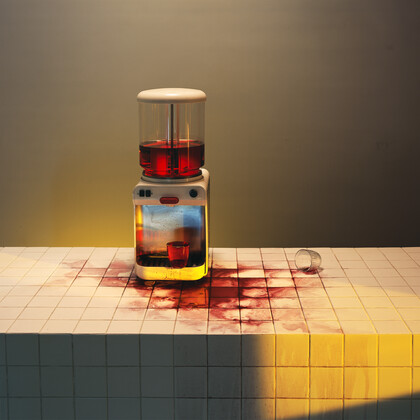 CHEN WEI 陈维
2019
Archival inkjet print, mounted on aluminium composite panel, toughened acrylic
120(H)*120(W)cm | Framed size 130*130cm
Edition of 6
CW_5326
Long Day
, Aranya Art Centre, Beidaihe,
10.18, 2019 - 04.05, 2020
Introduction
Chen Wei (b. 1980, Zhejiang), lives and works in Beijing. Initially a sound and performance artist, Chen Wei's interest developed into photo, video and installation art. The artist has exhibited extensively at institutions and biennales in China and all over the world.
Recent exhibitions include: Chen Wei: Goodbye, ShanghART, Shanghai (2019); Chen Wei: Drifting Along, Büro Basel, Basel, Switzerland (2019); Chen Wei: Where Are You Going Tonight, chi K11 artspace, Guangzhou (2018); Chen Wei: Falling Light, Galerie Rüdiger Schöttle, Munich, Germany (2018); Witness, Chen Wei etc., Pilar Corrias, London, UK (2018); The Club, Centre for Contemporary Photography (CCP), Melbourne, Australia (2017); Noon Club, programmed by Francesco Bonami, JNBY Art Space, Hangzhou (2016); In The Waves, chi K11 Art Museum, Shanghai (2015), The Stars in the Night Sky are Innumerable, Australia China Art Foundation, Sydney, Australia (2014) etc.
Chen Wei was awarded the Asia Pacific Photography Prize in 2011, and was a nominee of the Prudential Eye Awards for Contemporary Asian Art in 2015.
上海香格纳文化艺术品有限公司
办公地址:上海市徐汇区西岸龙腾大道2555号10号楼
© Copyright
ShanghART Gallery
1996-2019

沪公网安备 31010402001234号