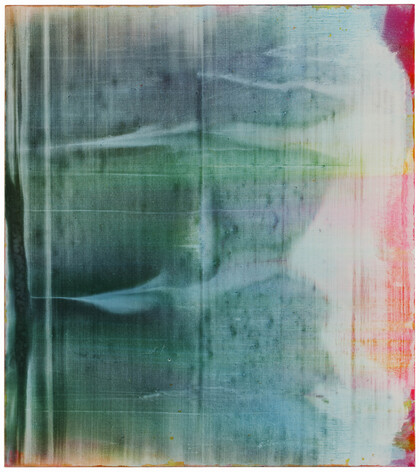 +
Art SG 2023
, Marina Bay Sands Expo and Convention Centre, Singapore,
01.11, 2023 - 01.15, 2023
Introduction
'In a work of art, chaos must shimmer through the veil of order.' This is my favourite line from the German poet Novalis. I also depict the same harmony in my paintings, which is both vague and clear. I use 'fluid colours' and let them penetrate, flow and superimpose on the canvas to produce a very emotive picture. They are derived from my senses and feelings; sometimes I can't control my desire for clarity, and thus construct some order in this perceptual and fluid picture. I consider it a particular kind of 'confusing certainty'.——He Wei
He Wei's mysterious abstractions investigate interior landscapes of the mind and heart. Through a process of applying many translucent layers of oil paint onto canvases lying on the floor random expressionistic color fields are created sometimes with broken geometric structures floating on the surface. The texture and wrinkles in the canvas, and the imperfections of the floor form depressions and crevices on the painting's surface. Using different techniques and tools He Wei applies the paint with brushes, rollers, scrapers, even watering cans, layer upon layer. The thinned oils flow onto the canvas and settle into the linen's texture and crevices creating soft undulating colors and unexpected shapes.
He Wei was born in Xinjiang in 1980 and graduated from Sichuan Fine Arts Institute, Oil Painting Department in 2005. He currently lives and works in Beijing. Recent exhibitions include: New Works by He Wei, Saisen Art, Shanghai (2022); He Wei Solo Exhibition, ShanghART M50, Shanghai (2021); Gemeinsam Fremd Sein, Q21 MuseumsQuartier, Vienna, Austria (2021); A Composite Leviathan, Bridge Projects, Los Angeles (2020) & Luhring Augustine, New York, U.S.A. (2019); Dual Solo Exhibition of HE Wei & TANG Maohong, ShanghART Beijing (2019); He Wei: Primary Colour, C-Space, Beijing (2016); He Wei: Contradiction, Telescope, Beijing (2015); He Wei: Place Beyond Touch, Art Seasons, Beijing (2010); New Interface 3 – Searching the Future, Liu Haisu Art Museum, Shanghai (2007).
上海香格纳文化艺术品有限公司
办公地址:上海市徐汇区西岸龙腾大道2555号10号楼
© Copyright
ShanghART Gallery
1996-2022

沪公网安备 31010402001234号