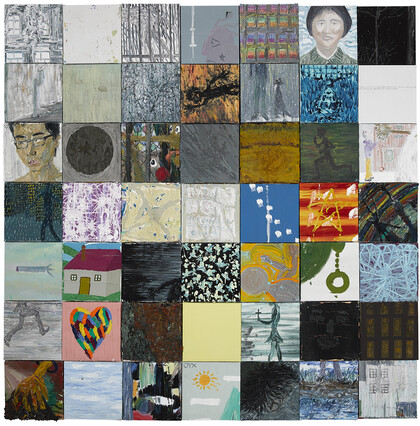 I AM THE PEOPLE
, White Rabbit Gallery, Sdyney, Australia,
06.28, 2023 - 12.11, 2023
Introduction
Ouyang Chun was born in the 1970s and grew up in Xi'an. Having drifted away from the academic art education system, his experience of self-education determined his independent and versatile creative powers. Since becoming a professional artist in Beijing at 28, he has created works of painting, installation and sculpture, and draws inspirations from the contradiction and uneasiness brought on by the social upheavals of contemporary China.
The subjects of Ouyang Chun's paintings returned from the allegorical worlds of the early years to his personal experiences, juxtaposing worlds of fiction and reality, while pursuing absolute painting experience with his brushstrokes. His complicated life experiences and affection for the reality have contributed to his unique insight into the material world, forming compounded narratives and a strong perceptiveness for the broken and left behind. In his works of painting, installation and sculpture, Ouyang Chun often uses his guileless and vigorous brushstrokes and the forgotten objects to construct magnificent and intriguing landscapes and poetry.
His major solo exhibitions include: The Mortals, ShanghART Shanghai (2019); A Drop of Dust, ShanghART Beijing (2015); My Story, ShanghART Shanghai (2015); Detritus, BANK, Shanghai (2014); Child, Today Art Museum, Beijing (2012); Reveling In Rambling, Yuz Museum, Jakarta, Indonesia (2012); Painting the King, Belvedere-Upper Belvedere & Augarten Contemporary, Vienna, Austria (2011); Ouyang Chun - Painting the King, me Collectors Room, Berlin, Germany (2010). Works by the artist have been collected by Belvedere, Vienna, Austria; Me Collectors Room, Berlin, Germany; Long Museum, Shanghai, China; Power Station of Art Shanghai, Shanghai, China; White Rabbit Contemporary Chinese Art Collection, Sydney, Australia.
上海香格纳文化艺术品有限公司
办公地址:上海市徐汇区西岸龙腾大道2555号10号楼
© Copyright
ShanghART Gallery
1996-2022

沪公网安备 31010402001234号