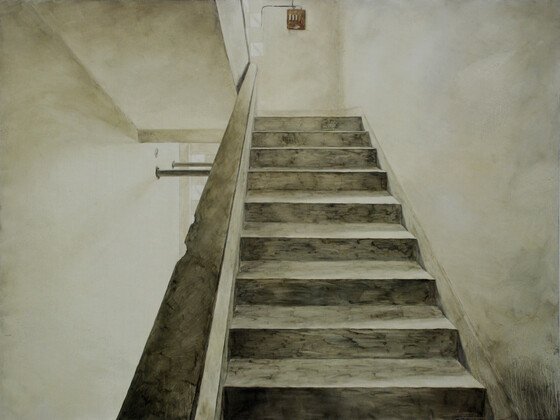 I Loved You
, White Rabbit Gallery, Sydney, Australia,
07.02, 2022 - 11.27, 2022
Introduction
Zhou Zixi created his characteristic approach of allegorical narrative, absurd visual expression and subtle landscape line drawing, and unceasingly pursued hidden facts through his works. He presents seemingly insoluble complex entanglement between ideology and personal experiences from multi-levels, and multi-points. In his works, he usually switches implicit, ambiguous, and isolated collage images to some positions in different spaces, in order to trigger accidental and unexpected visual encounters; he also gives common forms symbolic meanings, to reveal some thorny significance. His recent works captures daily scenes of various classes in China, as well as various cross-sectional profiles as basic elements, and the final presentations are fragmentary yet vast, complicated yet furious, the same with the course of reality, whereby visual wonders follow closely the daily wonders, and ultimately constitute the mutual overlapping and reflections.
Zhou Zixi was born in Jiangxi province in 1970.  He currently lives and works in Shanghai. Recent exhibitions include Advent: The Longing the Distant Worlds Aroused Spoke More to the Home Than to Anything Unknown, Powerlong Museum, Shanghai (2021); Inventing Landscape, Producing the Earth, Qianshao Contemporary Art Center, Shanghai (2019); Chinese Summer, Astrup Fearnley Museet, Oslo, Norway (2017); Spring Outing in Xiaogang, MadeIn Gallery (2015), Late Spring and Early Summer, ShanghART Beijing (2011); China 1946-1949, ShanghART H-Space, Shanghai (2008); Interiors, BüroFriedrich, Berlin, Germany (2006); Happy Life, Zhou Zixi Solo exhibition, BizART, Shanghai (2005). Recent exhibition include 11th Shanghai Biennale, Why Not Ask Again?, PSA, Shanghai (2016); China 8, Contemporary Art from China at the Rhine and Ruhr, Lehmbruck Museum, Duisburg (2015); First Kyiv International Biennial of Contemporary Art, Kyiv (Kiev), Ukraine (2012); China Power Station - part 4, Pinacoteca Agnelli, Torino, Italy (2010); China Power Station: Part II, Astrup Fearnley Museum of Modern Art, Oslo, Norway (2007).
上海香格纳文化艺术品有限公司
办公地址:上海市徐汇区西岸龙腾大道2555号10号楼
© Copyright
ShanghART Gallery
1996-2022

沪公网安备 31010402001234号