52nd International Art Exhibition La Biennale di Venezia Collateral Events: Migration Addicts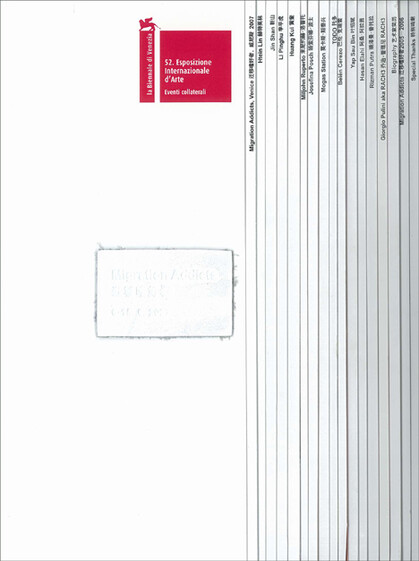 Author/Editor: Bilijana CIRIC/Karin GAVASSA
Publisher: ddmware house, Shanghai
Languages: English Chinese
Introduction:
Migration Addicts was selected for the Collateral Events, a section of the 52nd Venice Biennale which shows public museum quality projects chosen by Robert Storr, the Artistic Director of the Venice Biennale. The project began as an ongoing project, investigating how migration re-determines issues related to human identity, gender and spiritual needs, touching upon topics which concern many expanding Asian and western cities. The structure of the exhibition in Venice is based on a series of interventions that takes place throughout the public spaces in the city, articulating new perspectives entrenched directly in the urban environment, and methodologically operating in time and in space. The participating artists confront in their own culture and artistic practices the topic of migration, providing a direct relationship with the public space where the exhibitions is hosted, reflecting on the peculiarity of the territory, investigating differences and possible points in common.

The present catalogue includes artist statements, artist biographies, essay by the curators and documentation of Migration Addicts in Shanghai (2005) and Singapore (2006).

Please note that images of works in the catalogue are for reference only. They are not necessary the works on display in Venice.
---
上海香格纳文化艺术品有限公司
办公地址:上海市徐汇区西岸龙腾大道2555号10号楼
© Copyright
ShanghART Gallery
1996-2022

沪公网安备 31010402001234号