Things From the Gallery Warehouse 7-A
Group Exhibition
ShanghART Main Space, Shanghai
Date: 12.24, 2015 - 03.06, 2016
Artists:
SHI Qing 石青
|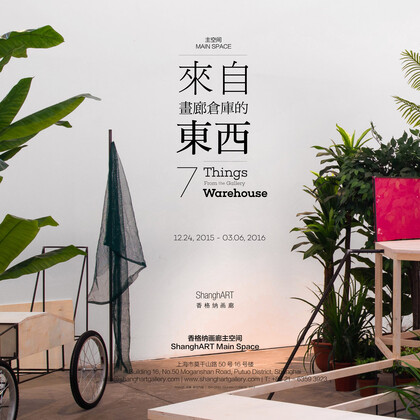 Opening: Dec. 24, 2015
Duration: Dec. 24, 2015 to Mar. 6, 2016
Location: ShanghART Gallery Main Space, Bldg 16, 50 Moganshan Road, Shanghai
Contact: press@shanghartgallery.com | www.shanghartgallery.com
From Dec 24 to the coming year 6 March, Things from the Gallery Warehouse 7 will be launched in ShanghART Gallery, Shanghai. The group exhibition will be successively unveiled as section A and B. SHI Qing's installation work Factory of Climate Negotiations and his painting Intermediate Evidence Forgotten by the Climate will prior to be exposed in section A (Main Space). Works from YANG Zhenzhong, HU Jieming, ZHANG Qing and ZHANG Ding as the New Year 'Must See' will be showcased in section B in coming January (H Space).

Factory of Climate Negotiations and Intermediate Evidence Forgotten by the Climate are important parts of the artist's work "Climate Theater", here the "climate" as a system, aim to the complexity and uncertainty of art. As the third party, the practice of artist is "negotiation" and " disturbance", that's a kind of reconstruction and reshape of space which is a form of "terrain" corresponding the "climate".

The installation consists of steel, wood block, plaster, fluorescent lamp, etc., while the oil painting series have something in common: they are all with blue and green background, as well as wind and clouds containing art metaphor in every piece.

---
'Things from the Gallery Warehouse' is an ongoing exhibition project initiated by Shanghart in 2009. Every winter, this exhibition series showcases art works which have been shown in past major exhibitions, biennials and museum scenarioed projects and since have been rarely shown in shanghart's 3000 square metres warehouse (ShanghART Taopu Warehouse). Those hidden works produced by artists who germinated in diversified occasions will be re-located under a distinctive context, which are overt to be contemplated.
---
More Pictures:
Works Exhibited :
Related Exhibitions:
Things From the Gallery Warehouse 7-B
01.09, 2016 -03.06, 2016
Things From the Gallery Warehouse 6
01.17, 2014 -03.16, 2014
Things From the Gallery Warehouse 5
01.20, 2013 -03.04, 2013
ShanghART Winter Group Exhibition
12.27, 2011 -02.07, 2012
ShanghART Group Show
12.04, 2010 -01.09, 2011
Things from the Gallery Warehouse
11.13, 2009 -12.13, 2009
Links:
---
上海香格纳文化艺术品有限公司
办公地址:上海市徐汇区西岸龙腾大道2555号10号楼
© Copyright
ShanghART Gallery
1996-2019

沪公网安备 31010402001234号