Re-Appearance of Crosses , Ding Yi Solo Show
Solo Exhibition Hubei Museum of Art, Wuhan, Hubei
Date: 04.23, 2016 - 06.02, 2016
Artists:
DING Yi 丁乙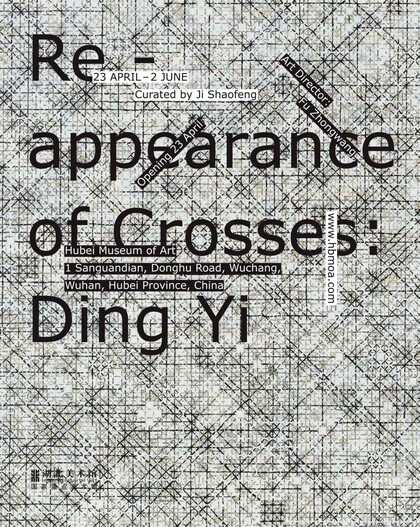 Hubei Museum of Art is delighted to announce Re-appearance of Crosses - an upcoming exhibition by acclaimed artist Ding Yi, curated by the museum's Deputy Director Ji Shaofeng, which will open on 4pm, April 23, 2016. Featuring 100 works, the exhibition tracks his artistic evolution from the 1980s to his most recent work.

Ding Yi has been a bold innovator since he committed himself to abstract painting in the late 1980s. His works are both minimalist and highly expressive. Ding Yi first used his signature crosses and grids as a way to express himself in a free but orderly way, in an escape from oppressive social standards , but now they have become his unique artistic language which he uses to explore the possibilities of art form, technique and medium. For nearly twelve years, he mainly focused on fluorescent colours. But in recent years, Ding has been working in monochrome and polychrome. Ding Yi's new works, eight pieces of canvas on wood, are the result of his exploration into monochrome painting. Appearances of Crosses 2013-B1 and Appearances of Crosses 2013-B2, paintings on corrugated paper, present his perspective of materials, space and colours.

Showcasing the early works where the figurative form still could be found before the Appearances of Crosses series emerged, with the key works of every phase of his creation, and rarely seen experimental works on paper, Re-appearance of Crosses invites viewers to re-explore Ding Yi's works and experience their breadth, depth, and diversity through a variety of perspectives .

Hubei Museum of Art is a national key museum. Re-appearance of Crosses is one of the highlight exhibitions of the year, and will run from April 23 to June 2 2016. A catalogue will be launched at the opening reception.
---
More Pictures:
Related Texts:
---
上海香格纳文化艺术品有限公司
办公地址:上海市徐汇区西岸龙腾大道2555号10号楼
© Copyright
ShanghART Gallery
1996-2019

沪公网安备 31010402001234号