2005 Berwick Film&Video Art Festival , Crossing Borders
Film Festival Berwick, U.K.
Date: 09.21, 2005 - 09.27, 2005
Artists:
HU Jieming 胡介鸣
|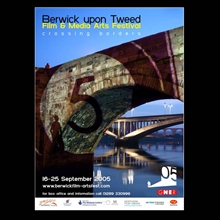 This autumn Berwick-upon-Tweed will host its second international film festival. After the great success of the inaugural event in 2005 and the bi-annual Minifest in 2006, we are returning with another major nine-day event. The Festival will continue to showcase a range of ground breaking and innovative world-class contemporary film and media art, set in unique historical and architectural locations within England's most northerly town. We will bring the diversity of moving image practice together in one place at one time.

This year's theme, Film on Film, will reflect upon the ways in which artists and filmmakers have often referenced the language and form of Cinema in their own work. Exploring this theme we will be screening and exhibiting a range of work, including the best of independent features, shorts, documentaries, artists film and video, live performance, archival and retrospective programmes, some of which will be shown in the UK for the first time.

Our complete programme will be released on 21st August 2007. Until then, check out our News section and subscribe to our email newsletter for updates.

Find out about what happened at the 2005 Festival and 2006 Minifest.
---
Links:
---
上海香格纳文化艺术品有限公司
办公地址:上海市徐汇区西岸龙腾大道2555号10号楼
© Copyright
ShanghART Gallery
1996-2019

沪公网安备 31010402001234号