Liu Yue: Maxim
Solo Exhibition ShanghART Beijing, Beijing
Date: 11.19, 2016 - 02.23, 2017
Artists:
LIU Yue 刘月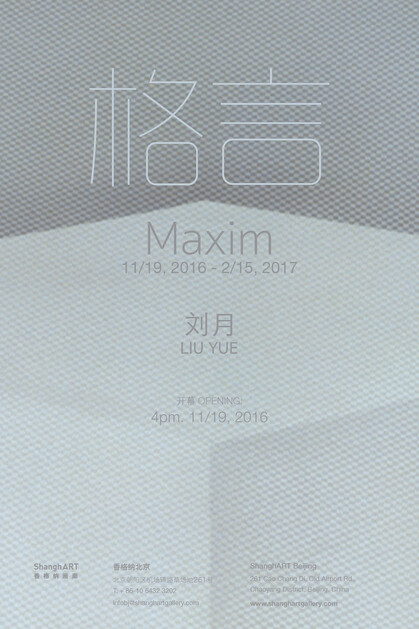 Opening: Nov. 19th, 2016 (4-6pm)
Duration: Nov. 20th, 2016 - Feb. 23nd, 2017. 11:00-18:00 (Close on Monday, Tue. to Sun. 11am to 6pm)
Venue: ShanghART Beijing | 261 Caochangdi, Airport Side Road, Chaoyang District, Beijing, China
Contact: infobj@shanghartgallery.com |+86 10 6432 3202
ShanghART Beijing is pleased to present artist Liu Yue's Solo Exhibition - Maxim on November 19th, 2016, marking the artist's first solo exhibition in ShanghART Gallery. This exhibition is focused on the artist's research of human cognition executed in his art practice since 2005 with the work Maximized Uniqueness, 07.

Liu Yue's practice is primarily centered on the materials for photography, and devoted in analyzing the materiality of images, as well as the human cognitive habit of images, light and forms. The seemingly simple representation of the image conceals its often surprising and unimaginable power on our perception once we engage in in-depth inquiry. He is apt at translating everyday objects into other forms, as well as questioning the essence of the object. He dissolves artificially added specifific notions and meanings of the objective world, unveils the "truth" from all the external factors, thus allowing thinking to occur without any preconception. The artist's research on cognition, "paradox", transpires throughout this process. Although the "answer" may be uncovered, it would be nonetheless rejected by the following "question". For the artist, this contradictory process is believed to be the most real and fascinating. Liu Yue, like a programmer of computer viruses, is first infected by it before adopting his most resistant means to fight it.

"Maxim" is the summarized fragments that had been integrated from multiple dimensions. It's the goal and direction people's imaginations incline, instead of their reality. Maximized Uniqueness series departs from the artist's sensibility, and is allowed to self-destructively expand in order to reach a new parameter. In Maximized Uniqueness, 07, the shifting axial of large format cameras, changing the angle of perspective in the original image (img. 1) and the adjustment of its forms and directions, are aimed at reshaping the original into a perfect and near- standardized regular shape (the final image, img. 2). In this process the conditioned norms had been adopted and then reinvented, whereby to engender new paradox. Thereon, this perfectly shaped forms intended to reach standardization and its paradoxical details are inevitably presented before their viewers.


Liu Yue, born in 1981, Shanghai. In 2005, he graduated from Oil Painting Department of the Fine Arts College of Shanghai University, is currently living and working in Shanghai. His recent exhibitions include, "Mass – Liu Yue Solo Project" at Local Space, Beijing (2016); "The Gentle Slope – Liu Yue Solo Project" at AM Art Space, Shanghai (2015); "Nonfigurative" at Shanghai Twenty-First Century Minsheng Art Museum, Shanghai (2015), "Anthem – Xiao Ming & Xiao Hong" at AM Art Space, Shanghai (2012); "Echo – Liu Yue Solo Exhibition" at OFOTO Gallery, Shanghai (2012); "Alexandria Biennale", Alexandra, Italy (2011); "Photoquai Photo Biennale" at Musee de Quai Branly, France (2011); "Absolute Zero – Liu Yue Photography Exhibition" at OFOTO Gallery, Shanghai (2008) and etc.
---
More Pictures:
Selected Press:
刘月:片刻而永恒的"极限"时空 | Ocula Conversation

Related PDF:
Works Exhibited :
---
上海香格纳文化艺术品有限公司
办公地址:上海市徐汇区西岸龙腾大道2555号10号楼
© Copyright
ShanghART Gallery
1996-2019

沪公网安备 31010402001234号