Welcome to Birdhead World Again , Shanghai Meets Sils Maria
Solo Exhibition Andrea Robbi Museum, Sils Maria, Switzerland
Date: 12.18, 2016 - 04.23, 2016
Artists:
BIRDHEAD 鸟头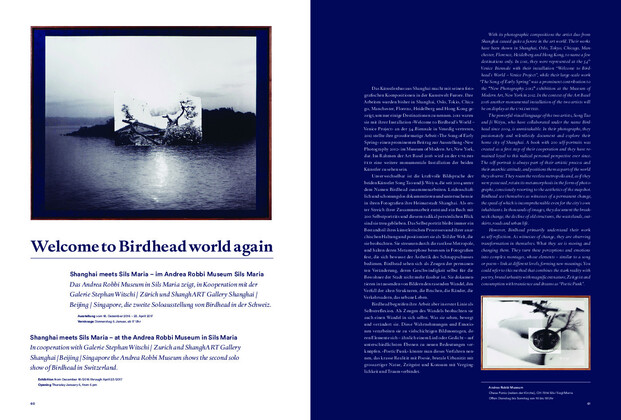 Exhibition: 18 Dec. 2016 - 23 Apr. 2017
Opening: 5 Jan. 2017, 5 pm



Shanghai meets Sils Maria – at the Andrea Robbi Museum in Sils Maria
In cooperation with Galerie Stephan Witschi / Zurich and ShanghART Gallery Shanghai / Beijing / Singapore the Andrea Robbi Museum shows the second solo show of Birdhead in Switzerland.
With its photographic compositions the artist duo from Shanghai caused quite a furore in the art world. Their works have been shown in Shanghai, Oslo, Tokyo, Chicago, Manchester, Florence, Heidelberg and Hong Kong, to name a few destinations only. In 2011, they were represented at the 54th Venice Biennale with their installation "Welcome to Birdhead's World – Venice Project", while their large-scale work "The Song of Early Spring" was a prominent contribution to the "New Photography 2012" exhibition at the Museum of Modern Art, New York in 2012. In the context of the Art Basel 2016 another monumental installation of the two artists will be on display at the UNLIMITED.

The powerful visual language of the two artists, Song Tao and Ji Weiyu, who have collaborated under the name Birdhead since 2004, is unmistakable. In their photographs, they passionately and relentlessly document and explore their home city of Shanghai. A book with 200 self-portraits was created as a first step of their cooperation and they have remained loyal to this radical personal perspective ever since. The self-portrait is always part of their artistic process and their anarchic attitude, and positions them as part of the world they observe. They roam the restless metropolis and, as if they were possessed, retain its metamorphosis in the form of photographs, consciously resorting to the aesthetics of the snapshot. Birdhead see themselves as witnesses of a permanent change, the speed of which is incomprehensible even for the city's own inhabitants. In thousands of images, they document the breakneck change, the decline of old structures, the wastelands, outskirts, roads and urban life.

However, Birdhead primarily understand their work as self-reflection. As witnesses of change, they are observing transformation in themselves. What they see is moving and changing them. They turn these perceptions and emotions into complex montages, whose elements – similar to a song or poem – link at different levels, forming new meanings. You could refer to this method that combines the stark reality with poetry, brutal urbanity with magnificent nature, Zeitgeist and consumption with transience and dreams as "Poetic Punk".
---
---
上海香格纳文化艺术品有限公司
办公地址:上海市徐汇区西岸龙腾大道2555号10号楼
© Copyright
ShanghART Gallery
1996-2019

沪公网安备 31010402001234号