Away from Disgrace
Solo Exhibition Blindspot Gallery, Hong Kong
Date: 03.18, 2017 - 05.06, 2017
Artists:
JIANG Pengyi 蒋鹏奕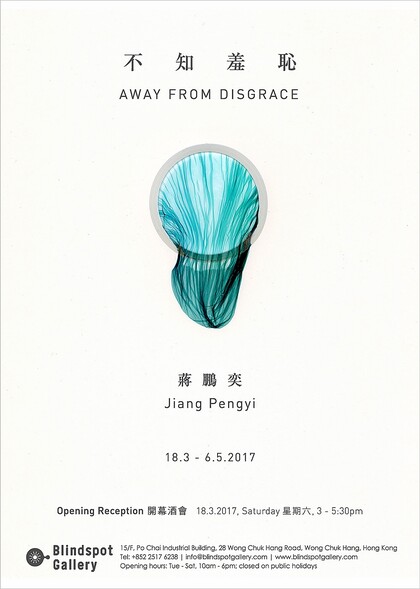 Deeply inspired by French surrealist philosopher Georges Bataille's text L'Érotisme, Jiang conceived his recent development of art as an existential inquiry into the solitude of being, and the role of sexuality in human relationality and spirituality. The three series being showcased, In Some Time, The Sun Matched with the Sea and Dissolution, forms a thematic exploration and a way of thinking about human
mortality through the making of art.
In Some Time is a series of abstract images of dreamy colours, the result of a cameraless analogue technique in which Jiang personally manipulated the physical contact of coloured fluorescent paper against 4x5 large format photographic film in the darkroom. The former absorbs and emits light, while the latter registers and fixes the light reflection by a silver-salt reaction. Using photography to paint with light, the process is as much about the mastery of photo-chemistry as the pursuit of accidental beauty in the temporary connection between two sensing and reactive bodies. This process of painting with physical contact in the darkroom is an analogy to the acts in erotic play.
---
More Pictures:
Related Publications:
---
上海香格纳文化艺术品有限公司
办公地址:上海市徐汇区西岸龙腾大道2555号10号楼
© Copyright
ShanghART Gallery
1996-2019

沪公网安备 31010402001234号