PARADOXA , ART FROM PRESENT CHINA
Group Exhibition Casa Cavazzini, Museum of Modern and Contemporary Art, Udine, Italy
Date: 04.22, 2017 - 08.27, 2017
Artists:
CHEN Wei 陈维
|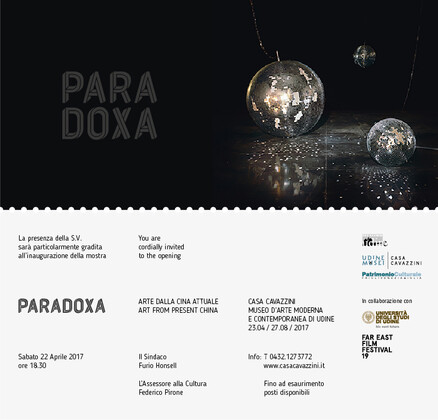 opening
22nd April 2017, 18:30
via Cavour 14, Udine

curated by Denis Viva

Chen Wei
Cheng Ran
Xie Nanxing

Paradoxa is an exhibition project focused on Far East Asian Art and one of its challenging aspects: the value of paradox, contradiction and mistake as a process for knowing and for characterizing aesthetic experience. The Second edition of 2017 is dedicated to Chinese Contemporary Art and the topic of obscurity according to the dialectic value it embodied for Chinese culture. Being one of the classic theme associated with Chinese philosophical and religious tradition, the darkness and obscurity is meant as a revelation of some contradictory aspects of Chinese modernity.
---
---
上海香格纳文化艺术品有限公司
办公地址:上海市徐汇区西岸龙腾大道2555号10号楼
© Copyright
ShanghART Gallery
1996-2019

沪公网安备 31010402001234号