When the Other Meets the Other Other
Group Exhibition Cultural Center of Belgrade, Belgrade, Serbia
Date: 06.06, 2017 - 07.01, 2017
Artists:
BIRDHEAD 鸟头
|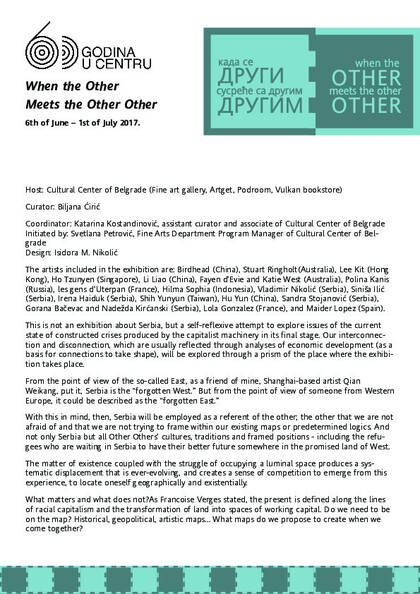 Host: Cultural Center of Belgrade (Fine art gallery, Artget, Podroom, Vulkan bookstore)
Curator: Biljana Ćirić
Coordinator: Katarina Kostandinović, assistant curator and associate of Cultural Center of Belgrade
Initiated by: Svetlana Petrović, Fine Arts Department Program Manager of Cultural Center of Belgrade
Design: Isidora M. Nikolić

The artists included in the exhibition are: Birdhead (China), Stuart Ringholt(Australia), Lee Kit (Hong
Kong), Ho Tzunyen (Singapore), Li Liao (China), Fayen d'Evie and Katie West (Australia), Polina Kanis
(Russia), les gens d'Uterpan (France), Hilma Sophia (Indonesia), Vladimir Nikolić (Serbia), Siniša Ilić
(Serbia), Irena Haiduk (Serbia), Shih Yunyun (Taiwan), Hu Yun (China), Sandra Stojanović (Serbia),
Gorana Bačevac and Nadežda Kirćanski (Serbia), Lola Gonzalez (France), and Maider Lopez (Spain).

This is not an exhibition about Serbia, but a self-reflexive attempt to explore issues of the current
state of constructed crises produced by the capitalist machinery in its final stage. Our interconnection
and disconnection, which are usually reflected through analyses of economic development (as a
basis for connections to take shape), will be explored through a prism of the place where the exhibition
takes place.

From the point of view of the so-called East, as a friend of mine, Shanghai-based artist Qian
Weikang, put it, Serbia is the "forgotten West." But from the point of view of someone from Western
Europe, it could be described as the "forgotten East."

With this in mind, then, Serbia will be employed as a referent of the other; the other that we are not
afraid of and that we are not trying to frame within our existing maps or predetermined logics. And
not only Serbia but all Other Others' cultures, traditions and framed positions - including the refugees
who are waiting in Serbia to have their better future somewhere in the promised land of West.

The matter of existence coupled with the struggle of occupying a luminal space produces a systematic
displacement that is ever-evolving, and creates a sense of competition to emerge from this
experience, to locate oneself geographically and existentially.

What matters and what does not?As Francoise Verges stated, the present is defined along the lines
of racial capitalism and the transformation of land into spaces of working capital. Do we need to be
on the map? Historical, geopolitical, artistic maps… What maps do we propose to create when we
come together?

The legacy of the failed attempt of Yugoslavia to widen modernist and colonial categories and canons
appears to be an important thread throughout the exhibition. This thread is strengthened by the
fact that the host of the exhibition, the Cultural Center Belgrade, opened its first galleries in 1961 to
coincide with the Non-Aligned Movement Conference in Belgrade.

From these ruminations, some important questions emerge: What kind of institutional structures
could we manifest if we did not all adhere to the construct of the museum according to a Western
model? What kind of relationships might be possible through institutions that have yet to exist or
were only ever dreamed of? Is it possible for us to imagine these possibilities? The notion of touch,
of physical experience, and an attempt to go beyond the visual, along with a disruption to the notion
of archiving, are some of the aspects that many of the artists in the exhibition are dealing with.

Importantly, the artists who have been invited to work together on the exhibition define themselves
and their practices as existing on the margins, staying clear of the mainstream mode of contemporary
art production and circulation, and its values. Their thinking and slow pace of working is crucial
to the framing of the exhibition and curatorial premise.

A series of artists' talks served as a preface to the upcoming exhibition When the Other meets the
Other Other, giving more context to how the exhibition has developed, and to grapple with how
so-called international, large-scale exhibitions within their specific spatiotemporal reality can actually
contribute to a local art context and to what end.

Can the exhibition, as a format that increasingly feeds consumerism, still facilitate the experience of
time, perform time, or even produce time? Along with posing these questions, we are proposed a
longer term involvement that began with a number of gatherings, which feed back into the exhibition
and the way it will be structured. At the same time, we hope to cultivate new future collaborations,
with an interest in how cultural infrastructures are imposed on us through our different localities,
and the ways we can act together to create solidarity networks.

In these and other ways, the exhibition intends to be a self-reflective journey of encounter for both
sides, exploring the idea of the commons and notions of solidarity, along with different historical
trajectories that frame each other's current moment, and ways of experiencing the world. For the
question remains: Can we, as art practitioners, actively participate in these processes?

Supported by: Institute Cervantes, Embassy of Australia, Embassy of Republic of Indonesia in Belgrade;
Turkish Airlines, AIKE DELLARCO gallery in Shanghai, ShanghART gallery, The National Culture
and Arts Foundation (Taiwan), Supervizuelna, Seecult, Designed.rs etc.
---
More Pictures:
Related Exhibitions:
Related Publications:
---
上海香格纳文化艺术品有限公司
办公地址:上海市徐汇区西岸龙腾大道2555号10号楼
© Copyright
ShanghART Gallery
1996-2019

沪公网安备 31010402001234号