CHEN Xiaoyun: Arrival
Solo Exhibition ShanghART Beijing, Beijing
Date: 11.03, 2018 - 12.26, 2018
Artists:
CHEN Xiaoyun 陈晓云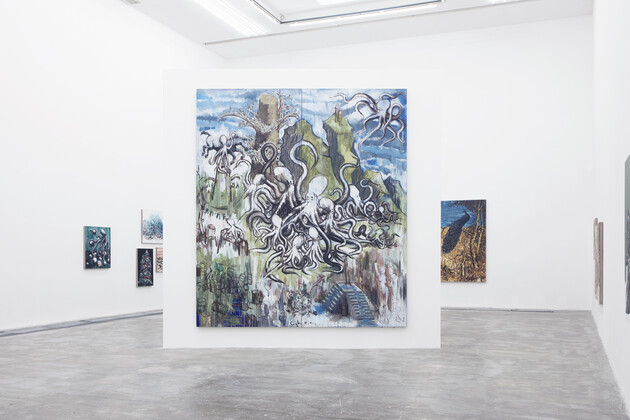 Opening: 4 PM, 3 November, 2018
Duration: 3 November – 26 December, 2018 (11:00-18:00, Monday Closed)
Location: ShanghART Beijing, 261 Cao Chang Di, Airport Side Rd., Chaoyang District, Beijing, China
Contact: infobj@shanghartgallery.com | + 86 10 6432 3202
ShanghART Beijing is pleased to present CHEN Xiaoyun's solo exhibition "Arrival", showing the artist's most recent paintings that feature one single object - octopus. The exhibition runs from 3 November to 26 December, 2018.

The "arrival" hypothesis is a sacred moment about future, which contains our fear or joy of the unknowable. As the starting and finishing point of all anxieties and chaos, and also the Holy Spirit or devil, it dominates our imagination of reality and the past. It is a pessimism or optimism about future; it relates to fate, three games within the time frame - life, death and immortality, as well as conflict and banter. The fallen soul and the numb body look forward to a one-off carnival. In stains and broken illusions, the future is a being without shape, which constantly arrives from different directions.


About the artist

CHEN Xiaoyun was born in Hubei Province in 1971. He currently works and lives in Beijing. CHEN Xiaoyun's works are always both artistic and poetic in style, with introspective thinking present in the narrative structure as well as the use of individual fragments of consciousness to channel the real world in pictorial form. His works usually start with a caption, a dialogue, or a motion that is then overlapped, refined, and abstracted, to make our known world more ridiculous, hesitant, and emptier.

Recent major exhibitions include: Simultaneous Eidos, Guangzhou Image Triennial 2017, Guangdong Museum of Art, Guangzhou (2017); CHEN Xiaoyun: 106 Flashes of Lightning That I Collect, ShanghART Main Space, Shanghai (2016); Post-sense Sensibility, Trepidation and Will, Beijing Minsheng Art Museum, Beijing (2016); CHINA 8, Contemporary Art from China at the Rhine and Ruhr, Lehmbruck Museum, Duisburg, Germany (2015); CHEN Xiaoyun: Twenty-one Poems of Lenin, ShanghART Main Space, Shanghai (2014); Hysteria, Metaphorical and Metonymical Life-World, A4 Contemporary Arts Center, Chengdu (2013); Darker than Darkness, Death beyond Death, Fire Burning Fire, Walking Down along the Stairway, ShanghART Beijing, Beijing (2013).
---
Press Kit
Click to Download
More Pictures:
Related PDF:
Works Exhibited :
---
上海香格纳文化艺术品有限公司
办公地址:上海市徐汇区西岸龙腾大道2555号10号楼
© Copyright
ShanghART Gallery
1996-2019

沪公网安备 31010402001234号