Melati Suryodarmo: Why Let the Chicken Run?
Solo Exhibition Museum MACAN, Jakarta, Indonesia
Date: 02.28, 2020 - 07.27, 2021
Artists:
Melati SURYODARMO 麦拉蒂·苏若道默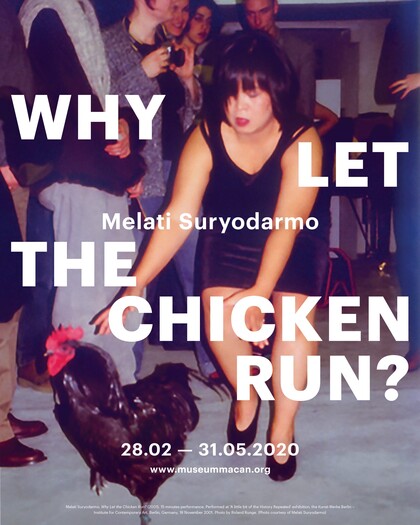 Melati Suryodarmo is one of Indonesia's internationally acclaimed performance artists. Why Let the Chicken Run? is on view from 28 February to 31 May 2020 and presents significant works from over 20 years of art practice including scheduled live performances, photography and video performances, and historical documentation.

Why Let the Chicken Run? traces Melati Suryodarmo's artistic practice through the presentation of her incredible long-durational performance pieces that range from 3 to 12 hours in duration. Through these long-durational works such as I'm A Ghost in My Own House (2012) and The Black Ball (2005), the artist challenges her body physically and psychologically in a personal pursuit of a deeper spiritual consciousness of the self.

The exhibition also presents key artistic influences and a selection of her personal archive to illustrate Suryodarmo's fascinating creative process. Her practice is largely influenced by Butoh, and her formal art education in Europe alongside Javanese cultural traditions.
---
More Pictures:
Selected Press:
Melati Suryodarmo:Performing to Resist | ArtReview Asia

Related Texts:
Works Exhibited :
Links:
---
上海香格纳文化艺术品有限公司
办公地址:上海市徐汇区西岸龙腾大道2555号10号楼
© Copyright
ShanghART Gallery
1996-2019

沪公网安备 31010402001234号