Art Basel 2020 , Online Viewing Rooms
Group Exhibition Art Fairs
Date: 06.17, 2020 - 06.26, 2020
Artists:
BIRDHEAD 鸟头
|
CHEN Wei 陈维
|
David DIAO 刁德谦
|
DING Yi 丁乙
|
HU Liu 胡柳
|
LIANG Shaoji 梁绍基
|
LIU Yue 刘月
|
XU ZHEN® 徐震®
|
YAN Bing 闫冰
|
YANG Fudong 杨福东
|
YU Youhan 余友涵
|
ZHANG Enli 张恩利
|
ZHAO Yang 赵洋
|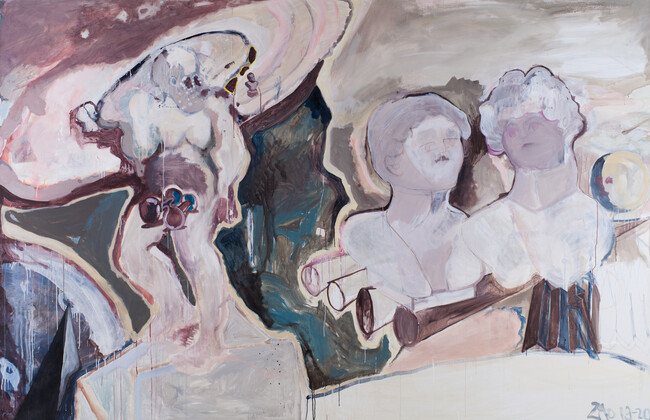 Private View: 2020.6.17 - 6.18

Public Days: 2020.6.19 – 6.26
The theme of this online exhibition is "The Boundaries of the Breathing". Breathing is one of the few acts that humans can perform both unconsciously and consciously, and it involves a gas exchange with the other while sustaining the life of the subject. This dangerous and unstoppable action is given an unprecedented tension in the present for its paradoxical utility, becoming a metaphor for the common destiny of humanity in the context of globalization, stirring our established boundaries.

During the exhibition, you will be able to see online Xu Zhen's installation "Mountain- Laocoon", which combines ancient Greek sculpture and Chinese rockery; David Diao's "Switching Station", which was created during his transition period in the 1980s and reconstructs Suprematism and Constructivism; and Yang Fudong's "Dawn Breaking", which uses Nietzsche's quotations as a photographic script, etc., experiencing the cross-cultural breathing of Chinese artists who transcend national boundaries in their creations.

At the same time, you will also see the latest work of Ding Yi's "Appearance of Crosses" series, which combines the forms of woodcut and painting; Zhao Yang's paintings in oils and acrylics with an uncontrollable sense of nature; and Liang Shaoji's oriental philosophical installations using silk as a medium, feeling the natural breath of art and life.

The exhibited works encompass a vast range of mediums, including photography, installation, painting among others. Confronting with the reality full of uncertainties and the multiple challenges from life sciences, ecology and geopolitics, the artists engage in a dialogue with the context of their times, and exploring the differences and gaps between fate and imagination, cognition and reality.
---
Works Exhibited :
---
上海香格纳文化艺术品有限公司
办公地址:上海市徐汇区西岸龙腾大道2555号10号楼
© Copyright
ShanghART Gallery
1996-2019

沪公网安备 31010402001234号