Xu Zhen, Folkert de Jong, and Martha Colburn , Xu Zhen ShanghART Supermarket
Solo Exhibition James Cohan Gallery, New York, U.S.A.
Date: 09.06, 2008 - 10.04, 2008
Artists:
XU Zhen 徐震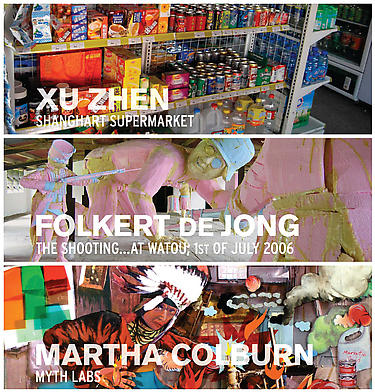 XU ZHEN

FOLKERT DE JONG

MARTHA COLBURN

September 6 through October 4, 2008
Reception for the artists
September 6, 6-8pm

James Cohan Gallery
533 West 26th Street
New York, NY 10001
T: 212.714.9500
F: 212.714.9510
Tuesday-Saturday 10am-6pm
info@jamescohan.com
www.jamescohan.com



James Cohan Gallery is pleased to open our fall season with three separate exhibitions. Chinese conceptualist Xu Zhen will transform the front gallery into a replica of a Shanghai convenience store, as he did previously for Art Basel Miami Beach 2007. With all packages for sale at Chinese prices, yet empty of their contents, Zhen's installation is a project in which the rules of the game for both art and the global market are—seemingly—collapsed.

In the second gallery, Dutch sculptor Folkert de Jong will present his sculptural tableau, The Shooting…At Watou; 1st July 2006, originally created as a site-specific installation for the Belgian village of Watou on the occasion of their annual summer poetry and art festival. The sculpture references Goya's famous 1814 painting, El dos de mayo de 1808 en Madrid, in its depiction of a gruesome execution, however the work departs from the famous painting with de Jong's characteristically absurdist twist on historical events and his macabre humor.

New York based artist Martha Colburn's fast-paced, hand-made, 16mm film animation, Myth Labs, 2008, will be on view in gallery three. Colburn uses hand-drawn images, magazine cut-outs and historical illustrations to create a modern-day parable about the excesses of our society. Set to a syncopated jazz drum beat, the hand-animated film compares the conquest of America by the Pilgrim settlers to the ravaging of contemporary society by Methamphetamine drug addiction; the fanaticism of religious zealots is equated with the compulsion of addicts.
---
---
上海香格纳文化艺术品有限公司
办公地址:上海市徐汇区西岸龙腾大道2555号10号楼
© Copyright
ShanghART Gallery
1996-2022

沪公网安备 31010402001234号