One World Exposition / Fifth Night
Group Exhibition Spring Workshop, Hong Kong
Date: 12.11, 2011 - 01.08, 2012
Artists:
YANG Fudong 杨福东
|
Special Exhibition Opening: 'Fifth Night' by Yang Fudong
Date: 11 Dec 2011
Time: 12 - 5pm | Open to public
Spring Workshop | 3/F, Remex Centre, 42 Wong Chuk Hang Road, Hong Kong
Exhibition Period: 12 Dec 2011 - 8 Jan 2012 | Time: 12pm - 8pm (Wed - Sun) | Spring Workshop
'The Fifth Night' is a video installation composed of seven synchronized projections. These videos feature old Shanghai scenes, including carriages, rickshaws and vintage cars. In the middle of the scene a stage has been built, a few jars with fishes have been placed on a table and a tramway is being frenetically repaired. Vague views of people without any relationship are shown. Anxious, hesitating men and women here and there attend to their own duties. A scene's foreground can become the next scene's background; the long screen of seven projections is created to have more depth and to be more complete than 3D. Facing seven cameras, actors' expressions in each scene and camera angle are uncontrollable; this kind of randomness presents a certain subtle and unpredictable aesthetic.
The idea behind 'The Fifth Night' came from a reflection on film production, and a new filming and viewing method was introduced for this video installation: seven projections, going far beyond our visual field and habits, Yang Fudong calls it 'multiple views film'. The most important elements in the production of this work are the demeanors of the actors, as well as viewers' feelings of the space.
8 December 2011 – 8 January 2012

Presented by: Videotage


In collaboration with: Asia Art Archive, Hanart TZ Gallery, KEE Club, Osage Art Foundation, School of Creative Media of City University of Hong Kong and Spring Workshop (In alphabetical order)

Supported by: Hong Kong Arts Development Council

Curators: Isaac Leung (梁學彬), Li Zhenhua(李振華)

Advisors: Valerie C Doran 任卓華, Oscar Ho 何慶基, Linda Lai 黎肖嫻, Qiu Zhijie 邱志傑?, ?Shen Qibin 沈其斌, Zhang Peili 張培力

Artistic Director: Ellen Pau 鮑藹倫

Exhibition Artists:

aaajiao 徐文愷, Cao Fei 曹斐, Henry Chu 朱力行, Feng Mengbo 馮夢波, Linda Lai 黎肖嫻, Teddy Lo 羅揚文, Ou Ning 歐寧, Ellen Pau 鮑藹倫, Qiu Zhijie 邱志傑, Eric Siu 蕭子文, Jeffrey Shaw 邵志飛, Johnnie To 杜琪峯, Wang Luming 王鹿嗚, Wang Jianwei 汪建偉, Wang Zhenfei 王振飛, Yang Fudong 楊福東, Danny Yung 榮念曾, Zhang Peili 張培力


Video Artists:

Cao Kai 曹愷, Cao Fei 曹斐, Chen Man 陳曼, Cheng Ran 程然, Du Jie 杜傑, Feng Mengbo 馮夢波, Fu Yu 富鈺, Jia Haiqing 賈海清, Jiang Zhi 蔣志, Ou Ning 歐寧, Qiu Zhijie 邱志傑, Shi Qinq 石青, Wang Jianwei 汪建偉, Wang Ning 王寧, Wang Yuyang 王郁洋, Wu Quan 武權, Wu Ershan 烏爾善, Yang Fudong 楊福東, Ye Linghan 葉凌瀚, Zhang Dan 張丹, Zhao Liang 趙亮, Zheng Yunhan 鄭雲瀚, Zhou Xiaohu 周嘯虎


Introduction:

Videotage, a leading non-profit organization proudly presents One World Exposition in Decemeber this year to facilitate, promote and present media art in Hong Kong also the Greater China region. One World Exposition precedingly features 18 contemporary media artists from both Hong Kong and Mainland China, exhibits their classic pieces in joint dialogue, and explores the position, history, currency and future of media art under the rapid development of contemporary Chinese art. Between the 8th December 2011 to the 8th January 2012, a series of exhibitions and programmes will be hosted at the most exciting art and cultural venues in Hong Kong for general public and art-lover to participate.


One World Exposition is the first substantial project that aims at exploring the development of Chinese media art from the regional, national and global perspectives. Through a series of exhibitions, screenings, performances, artist's talks and symposia, this project targets to enrich public's understanding in contemporary Chinese media artists' and their works from different context and cultural backgrounds, and hopefully bridge artistic and cultural exchange between regions and across time.


Videotage brings together internationally recognised media artists from diverse background and discipline, who work on video art, film, lighting, theatre, computer game and interactive media. Participating gems include, but not limited to, Feng Mengbo, Ou Ning, Ellen Pau, Qiu Zhijie, Jeffrey Shaw, Johnnie To, Wang Jianwei, Yang Fudong, Danny Yung and Zhang Peili. Co-curated by Isaac Leung and Li Zhenhua who are experts in media art, 18 participating artists will be presented in joint dialogue to explore the multi-faceted nature of Chinese media art in both the regional and global contexts. 8 groups of exhibits will be showcased to delineate and juxtapose lineage of histories, complexity and cross-complication, so as to project insights for the future framework for the development of Chinese media art. One World Exposition also debuts collaborative live performances of 'Qiu Zhijie x Ellen Pau' and 'Wang Jianwei x Danny Yung', that will inaugurate the opening night. Feng Mengbo will perform Bruce Lee VJ Project, jointly presented by Videotage, Hanart TZ Gallery and KEE Club, which will be a first in Hong Kong. All programme is opened to general public to sensitise new audience and inform new understanding in reaction to the changing landscape of Chinese media art.


All programme of One World Exposition is opened to general public and is of free admission, except Bruce Lee VJ Project by Feng Mengbo is for RSVP. Pencil down the week from the 8th to the 12th December 2011 for the excitement and amusement of Chinese media art. For further information and updates, please visit One World Exposition's official website: www.oneworldexpo.org.
---
More Pictures:
Works Exhibited :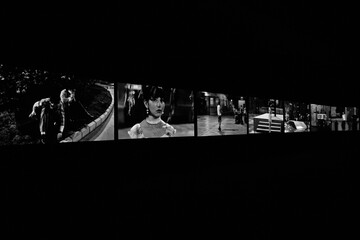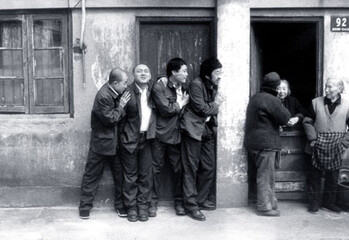 Links:
---
上海香格纳文化艺术品有限公司
办公地址:上海市徐汇区西岸龙腾大道2555号10号楼
© Copyright
ShanghART Gallery
1996-2019

沪公网安备 31010402001234号