A Lecture Upon the Shadow , Images from Chinese and British Artists
Group Exhibition
ShanghART H-Space, Shanghai
Date: 07.27, 2012 - 08.27, 2012
Artists:
LIANG Yue 梁玥
|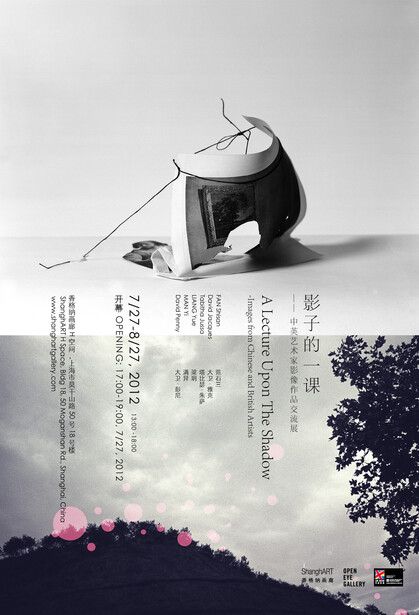 Venue: ShanghART H Space, Bldg 18, 50 Moganshan Rd., Shanghai
Opening: 5pm-7pm, Jul.27, 2012
Duration: Jul.27-Aug.27, 2012. 1pm-6pm
Artists: David Penny, Tabitha Jussa, David Jacques, LIANG Yue, FAN Shisan, MAN Yi.
A Lecture Upon The Shadow is a remarkable collaboration between Open Eye, a publicly funded photography gallery in Liverpool, and ShanghART Gallery. It brings together new works by six rising artists from both countries working with photography. Using different approaches, the artists play with light, shadow and form to re-imagine familiar situations, exploring the photography's relationship to illusion and the everyday. The exhibition takes its title from a poem by the English Renaissance poet John Donne.

David Jacques (Liverpool)' work explores history, narrative and the interplay between fact and fiction. Tabitha Jussa (Liverpool)'s new work documents the site of an abandoned utopian social housing development in North Liverpool to create an impossible view of the buildings – a heightened realism. Presented behind coloured glass, David Penny (Manchester)'s art-objects have undergone a number of deformations and reconstructions, highlighting the photography's transformational ability and its relationship to the history of art. Liang Yue (Shanghai) captures frozen moments of everyday life which contains real emotion with a peaceful appearance. Fan Shi San (Sichuan) focuses his camera on one child policy; constructing images of young people together with their imaginary reflections, the works are suggestive of separation and loneliness. Details of Man Yi (Tianjin)'s work are barely visible, caught in darkness and evoking a strange sense of detachment and unease.

More information please click the press release below.
---
More Pictures:
Works Exhibited :
Related Exhibitions:
A Lecture Upon the Shadow
12.07, 2012 -02.17, 2013
Links:
---
上海香格纳文化艺术品有限公司
办公地址:上海市徐汇区西岸龙腾大道2555号10号楼
© Copyright
ShanghART Gallery
1996-2019

沪公网安备 31010402001234号