No Difference - Contemporary Art Exhibition
Group Exhibition Li Space, Beijing
Date: 06.30, 2012 - 07.31, 2012
Artists:
LIANG Yue 梁玥
|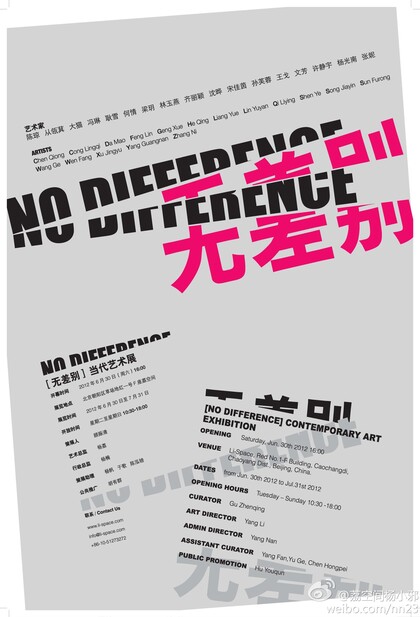 No Difference
Time:2012/6/30---2012/8/31
Venue:LI - SPACE, RED NO.1-F BUILDING, CAOCHANGDI, CHAOYANG DIST., BEIJING, CHINA.
Artist(s): Wen Fang Cong Lingqi Geng Xue He Qing Chen Qiong、Feng Lin、Liang Yue、Qi Liying、Xu Jingyu、Yang Guangnan、Zhang Ni、Song Jiayin、Lin Yuyan、Wang Ge、Shen Ye、Da Mao、Sun Furong


The endless cycle of global economic growth and crisis has led to the emergence of a series of new cultural issues in human society. Accompanying this development, artists have been constantly leaping the boundaries and rules of gender differences, national differences and cultural differences to examine the world from a more fundamental, more individual, yet also more universal and holistic perspective. In man's struggles against nature or attempts to coexist with it, the extremes of human society's power have forced artists to explore human nature and life while also casting off the fetters and frames of classification and uniform duality that humankind has defined for itself. Since humankind is a unified whole, the views that artists uphold are more often human viewpoints, rather than monolithic differentiated viewpoints based on gender or other classifications. The theme of "No Difference" is an exploration of human nature in a universal sense, but it does not embrace wholesale human conformity.

At the outset, this theme of "No Difference" is actually an admission that such differences do exist. Whether in terms of biology or sociology, gender differences are a fact of reality that cannot be objectively ignored or denied; the gender differences formed by social circumstances stubbornly resist eradication, even though the differences are gradually decreasing. The climax of the feminist movement has already passed, and women's legitimacy in society is now universally affirmed. When women express their viewpoints, they no longer need to tirelessly emphasize the equality of the sexes.

Looking back over the developmental history of Chinese contemporary art, female artists for a time were quite faithful to a kind of feminism with a particularly strong sense of form. This "past-tense" feminism was often manifested in three fields of creation, the first being "boudoir paintings," a type of painting depicting flowers, self-portraits and beautiful things rooted in the boudoir; wealthy young women who never left the home would often engage in such art as a way of passing the time. The second type could be called "silk thread goddess." This type of art developed from needlework into a passion for silks, linens, weaving and knitted materials. The elements employed by these artworks cannot escape the traditional logic of feminine needlework, and the individual emotions they attempt to convey are little more than girlish romance. These are agriculture-based social products, and regardless of their pure aesthetic elements, their creative vision still appears quite limited and monolithic, making them hard pressed to adapt to the search for universal values or the idea of a grand narrative that are expected by contemporary art. The third type is the "exhibitionist" confessional school. Though the human form provides many possibilities worth exploring and discussing, the sexual traits and unique cultural context of the female body make it unavoidably a creative extension in nature. The overuse of one's own body and its characteristics, however, leads in the end to emptiness and powerlessness after the presentation of one's individual nature. Compared to the three kinds of creative forms listed above, many active Chinese female artists are more focused on universal human nature, rather than being limited to "second sex" feminism.
For the contemporary artists taking part in the No Difference exhibition, gender factors are no longer an impediment to their hearts and hands. The sweeping nature of their ideas has brought them beyond the limiting boundaries of worldly critique, and their self-identification as women has begun to fade. They also have many other qualities: the clarity and sensitivity of their subconscious; limitless potential in their artistic ability to face the challenges of the unknown, not limited by existing themes; deep insight and critical abilities towards negative sentiments and dark matters. "No Difference" is a way of creative thinking. This fresh and free manner of thinking transcends the boundaries of form and the limits of language. "No Difference" is also the spirit that stands behind their creative ideas. This spirit ensures that differences in reality will no longer be limitations or barriers but eternal temptations leading them to constantly innovate and develop their individual forms and languages as artists.
---
---
上海香格纳文化艺术品有限公司
办公地址:上海市徐汇区西岸龙腾大道2555号10号楼
© Copyright
ShanghART Gallery
1996-2022

沪公网安备 31010402001234号