Metropolis , Reflections on the Modern City
Group Exhibition Birmingham Museum and Art Gallery, Birmingham, U.K.
Date: 03.23, 2013 - 06.23, 2013
Artists:
YANG Zhenzhong 杨振中
|
ZHANG Enli 张恩利
|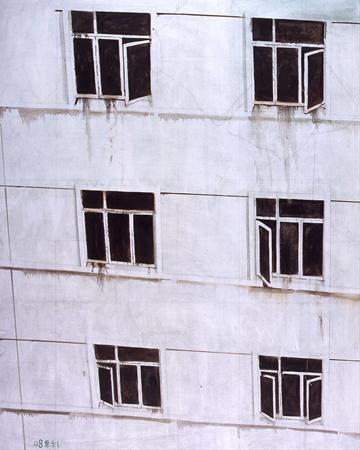 ZHANG Enli, Apartment 3, 2008, Oil on Canvas, Courtesy the artist, ShanghART Gallery and Hauser & Wirth Zürich London
Birmingham Museum & Art Gallery presents Metropolis: Reflections on the modern city, a major showcase of international contemporary artwork jointly collected by BMAG and the New Art Gallery, Walsall and developed in partnership with Ikon Gallery, as part of the £1 million Art Fund International Prize. Now shown together for the first time, these works represent an ambitious and nationally-significant new collection for Birmingham and the West Midlands.

Metropolis offers visions of modern cities and urban life, containing around 35 works in a variety of media, created in the past decade by 20 artists of international standing including Miao Xiaochun, Zhang Enli, Grazia Toderi and Beat Streuli. Entrance to the exhibition is free.

The changing rhythms and human interactions of urban life are a recurrent theme of the collection. Miao Xiaochun's monumental photographic work Orbit depicts the frantic pace of Beijing, a moving landscape where vehicles and pedestrians are captured in their metropolitan lives. In contrast, Dayanita Singh's Dream Villa series portrays a mysterious and atmospheric view of modern India. Infused with light and colour, the photographs suggest that even the most ordinary urban environment can have an enigmatic character. Several artists, including Mohamed Bourouissa, Jitish Kallat and Semyon Faibisovich, examine marginalised urban inhabitants. Bourouissa's series Périphérique – translated from the French as both 'peripheral' and 'ring road' – offers a cast of young, mostly male, characters, each scene reflecting a carefully staged moment of physical or emotional tension set in the bleak housing estates that encircle Paris.

Several works in the collection are a response to different areas of Birmingham. Christiane Baumgartner uses video and woodcut to create the diptych Ladywood, inspired by reflections of a railway bridge onto the canal. Beat Streuli's video Pallasades follows the crowds walking up and down the ramp to the shopping centre on one day in 2001, the repetition of each individual's experience suggesting the universality of human experience while also highlighting its diversity. Ola Kolehmainen's Shadow of Church takes the iconic Selfridges building as its subject, highlighting the fusion of traditional and modern buildings in Birmingham city centre to offer an abstract rather than documentary image.

Video plays an important part of the collection. In Grazia Toderi's installation Orbit Rosse, created for the Italian pavilion at the 2009 Venice Biennale, moving nocturnal images of cities are superimposed to create a mesmerising and hypnotic effect. Jochem Hendricks Front Windows depicts an anonymous looking apartment block near Frankfurt station, the silence shattered by the smashing of the windows from the inside. Both captivating and disturbing, it offers a dystopian view of the urban landscape.
Other artists included in the collection include Aleksandra Mir, Nicholas Provost, Matias Faldbakken, Barry McGee, Yang Zhenzhong, Cao Fei, Romauld Hazoumè, Josef Robakowski and Rashid Rana.

The works exhibited in Metropolis: Reflections on the modern city have been collected as part of the hotly contested Art Fund International prize. One of the most important and ambitious schemes ever launched by the Art Fund, the Art Fund International initiative allocated £1 million each to five successful partnerships between UK museums and contemporary art organisations.

This funding has allowed the creation of collections of international contemporary art over a period of five years, encouraging a radical change in the scale and ambition of contemporary art collecting in the UK.
---
Links:
---
上海香格纳文化艺术品有限公司
办公地址:上海市徐汇区西岸龙腾大道2555号10号楼
© Copyright
ShanghART Gallery
1996-2019

沪公网安备 31010402001234号