Chorus , 4 Artists' Show
Group Exhibition Don Gallery, Shanghai, No.1863 Middle Huaihai Road
Date: 09.04, 2010 - 10.10, 2010
Artists:
HAN Feng 韩锋
|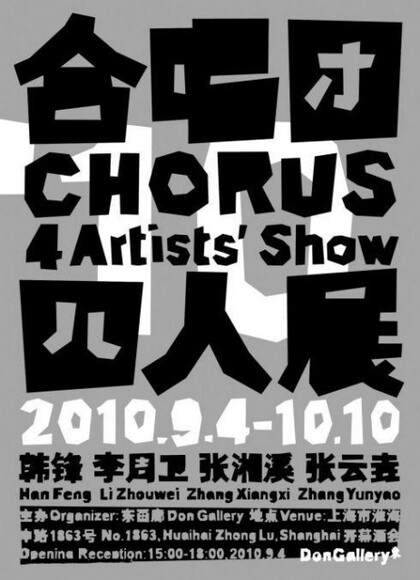 Everyone is singing a different voice part on nowaday's art stage. These voices in different tones, different pitches, are creating harmonious chorus pieces. From Sep. 4th to Oct. 10th, Don Gallery presents its first "Chorus" Collection. The masterpiece will feature four young artists, namely Han Feng, Li Zhouwei, Zhang Xiangxi and Zhang Yunyao.

This is the second exhibition for Harbin born artist Han Feng. The proud winner of John More Contemporary Art Contest Chinese Division brings his winning series "Big Aeroplanes". The series magnify the proportion of real time objects to create an ideal aeroplan pattern. His paradox where errors bring disturbance and beauty is his metaphor about seek and dream.

The Henan born artist Li Zhouwei resides and works in Guangzhou. Her work contains large proportions of blank spaces, small human figures and simple life scenes, which is a true reflection to her simple and modest personality.

Graduated from Sculpture department in Guangzhou Fine Arts Institute, Zhang Xiangxi concentrates his art contents within television shells. These shells, which come in different sizes, truly reflect ordinary human life scenes. The absence of human beings creates endless imaginations about the ordinary lives.

Shanghai artist Zhang Yunyao will present his interesting "Paradox Game" series. These devices reflect the paradoxes which exist everywhere along human development process. He intentionally uses rough cardboard as background to create an original and overwhelming effect. His abrupt depicting of tubes and cement is a mockery of mysticism and some kind of ridiculous social utopia.
---
---
上海香格纳文化艺术品有限公司
办公地址:上海市徐汇区西岸龙腾大道2555号10号楼
© Copyright
ShanghART Gallery
1996-2019

沪公网安备 31010402001234号