Ding Yi: What's Left to Appear
Solo Exhibition Long Museum (West Bund), Shanghai
Date: 06.06, 2015 - 07.26, 2015
Artists:
DING Yi 丁乙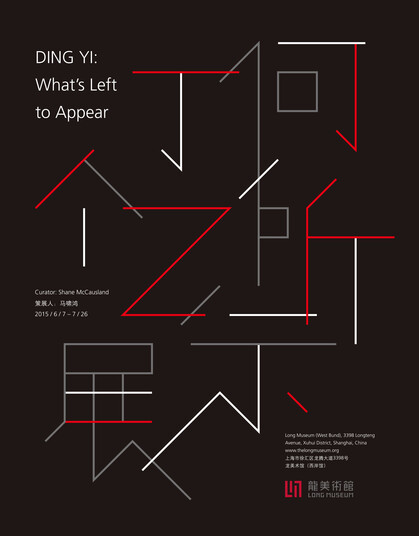 Curator: Dr. Shane McCausland
Opening:April-25, 2015, 16:00-19:00
Exhibition:April-26 to June-07, 2015
Venue:Long Museum (West Bund), 3398 Longteng Avenue, Xuhui District, Shanghai
Long Museum (West Bund) is delighted to announce a forthcoming solo show of the acclaimed contemporary abstract painter Ding Yi, entitled What's Left to Appear. The exhibition runs from 7th June to 26th July 2015 and is curated by Dr Shane McCausland of SOAS, University of London.

Regarded as one of China's foremost artists and a pioneer of abstraction, Ding Yi (b. 1962, Shanghai) has been painting crosses since the late 1980s: his series of paintings, whether predominantly black, based on tartan or else elaborated in intense fluorescent colours, all bear the title Appearance of Crosses with a date. The cross, whether a + or an X, is a motif that the artist has declared is a formal mark without meaning, while the context of this work is the industrial-paced development of the urban environment in post-socialist China. His perennial idiom -- the grid -- speaks to a context in place and time, through its association with the frenetic communications networks and distinctive fluorescence of the contemporary city.
The exhibition is a fitting celebration of a group of new works on plywood from 2015. Deliberately created on a large scale with the massive central space of the Long Museum in mind, the artist uses thick layers of lacquer-like paint scored through to reveal searing layers of colour, structured as always by his trademark grid idiom. Complementing the new work, the exhibition will feature up to one hundred further paintings and drawings on media including canvas, tartan and paper.

The new works display considerable virtuosity in his command and deployment of a growing range of techniques associated with his grid idiom. The carved lines, components of the grid, are beautifully modulated with thickening and thinning shapes and supple or taut qualities as in calligraphy, even if Ding Yi dismisses his lineament as not 'centred-tip' (zhongfeng) -- a byword in calligraphic lore for being technically complete. But the carved line is a multiple technique, destroying and removing paint and wood only to simultaneously create by revealing layers of colour or even the wood base below. The result is that Ding Yi's grid, in the new paintings, becomes even more rich and complex as an artistic framework, enabling further exploration and revealing new qualities and characteristics. Mediated by our degree of generosity to the work with our eyes, prompt fresh reflections in the mind and sensations in the body that are unfamiliar yet exciting and recognizably of our place and time.

The exhibition will be mounted on the ground and mezzanine levels, a space covering almost 3,000 square metres, which is to be devoted for the very first time to the work of a single artist. The exhibition will explore the untapped design potential of this display area with the aim of providing a distinctive environment for lingering and looking, a cultural garden for an immersive experience of Ding Yi's work, one which will delight audiences familiar with all but Ding Yi's new work and draw in new audiences to whom his work is as yet strange or mysterious.

The show's title, What's Left to Appear is a phrase that visitors may wish to keep in mind when faced with the paintings: it is a question or a statement, rather than an answer or explanation, conceived to prompt discovery and exploration through Ding Yi's visual world of grids and colours. Though the paintings appear static or fixed as images, in a Chan or Daoist paradox, as soon as the spectator takes up a relational position they begin to self-transform. Their potential as nourishment and guidance for the spirit awaits only the reciprocal patience, commitment and indulgence of the viewer.
---
More Pictures:
Related Texts:
Related Publications:
---
上海香格纳文化艺术品有限公司
办公地址:上海市徐汇区西岸龙腾大道2555号10号楼
© Copyright
ShanghART Gallery
1996-2019

沪公网安备 31010402001234号