SUN Xun's new work Some Actions Which Haven't Been Defined yet in the Revolution has been nominated in 62nd Berlin International Film
2012-02-08 22:12
ShanghART Gallery has a great honour to announce that artist SUN Xun with his latest wood printing animation film Some Actions Which Haven't Been Defined yet in the Revolution has been nominated by Berlinale Shorts 2012 jury in 62nd Berlin International Film Festival.

Chinese animation films Three Monks, Yu Bang Xiang Zheng (Snipe and Clam), Feelings of Mountains and waters as well as Mantis Catch Cicadas were once nominated in the festival before. But thereafter no other works were ever chosen in the past 14 years. Breaking years of silence, it's really exciting for Chinese animation entering the Berlin International Film Festival again.

Meanwhile, merely 2 years after SUN Xun's work 21G entered Venice Film Festival in 2010, being the first Chinese animation film nominated by this festival, the artist brings animation work once again into top three A-class international film festivals.


Sun Xun was born in 1980 in Fuxin in Liaoning province, China. He currently lives and works in Beijing. He graduated in 2005 from the Print-making Department of the China Academy of Fine Arts. In 2006 he established π Animation Studio. During 2010 he has received several notable awards including the "Chinese Contemporary Art Awards (CCAA Best Young Artist)" and "Taiwan Contemporary Art Link Young Art Award". His film "21 KE (21 GRAMS)" (2010) has had its world premiere at the new "Orizzonti" section at the 67th Venice International Film Festival. This was the first Chinese animation film premiered at the Venice Film Festival.
-----
Related Works: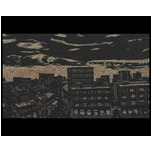 SUN XUN 孙逊
2011
Single-channel animation
12 minutes 22 seconds
Edition of 6
SXU579
Related Exhibitions:
---
上海香格纳文化艺术品有限公司
办公地址:上海市徐汇区西岸龙腾大道2555号10号楼
© Copyright
ShanghART Gallery
1996-2022

沪公网安备 31010402001234号