CHEN Wei
2017-05-19 12:51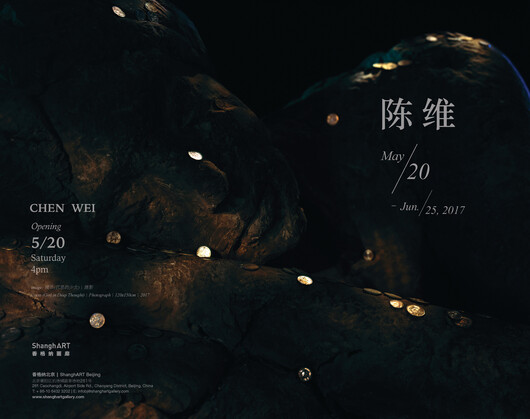 媒体下载:点击下载
Opening: May. 20, 16:00-19:00
Duration: May. 21 - Jun. 25 (11:00-18:00, Monday Closed)
Location: ShanghART Beijing | 261 Caochangdi, Airport Side Road, Chaoyang District, Beijing, China
Contact: infobj@shanghartgallery.com |+86 10 6432 3202


ShanghART Beijing is pleased to announce an inaugural solo show in the same name of artist CHEN Wei, opening on May 20, 2017. This is Chen's first solo show in Beijing over the past 10 years, as well as his first solo in ShanghART Gallery. 

Staged mise-en-scène and scenario re-enacting are often seen in Chen Wei's photography. In recent years, he has been working on the combination of stage setting and multi-media installation as an on-site extension in his work. This exhibition contains the artist's recent works of photography and installation, which will arouse our reconsideration of facts and imaginations upon city, within the blurred boundaries of fiction and reality constructed by him.

A series of photographs of the urban architecture scene are derived from the ongoing project "New City" , which is about the imagination of the new city, and also about the status of the city in changes. By collecting, synthesizing and rebuilding, landscape is isolated from complex background, in that way, objects acquire clearer semantics.

A set of lighting installation is made up of three different sized LED advertising screens, purchased by the artist in a market. Each screen plays different advertisements and has varying degrees of glitch. Through Chen's acquisition and resettlement, these exaggerated, blunt, and even rude languages that used to haunt the city, are now glitched materials being brought back to the exhibition.

Sculptures and photography of the Coin series have been initially developed since 2012 (the coins in the fountain) in the group exhibition "ON | OFF" at Ullens Center for Contemporary Art. Chen then gradually switch his focus on the coin and the nameless sculpture in the fountain. After several years of research, he shooted the flashing coins and sculptures that are no longer symbolic.


Chen Wei

Born in 1980, Zhejiang Province, China. Currently lives and works in Beijing.
He has been engaged in sound art and performance, and then turned to the video and installation. Chen Wei has exhibited extensively and internationally at numerous prestigious institutions and biennales.

Recent solo exhibition includes: The Club, Centre for Contemporary Photography (CCP), Melbourne, Australia(2017); Noon Club, programmed by Francesco Bonami, JNBY Art Space, Hangzhou;In The Waves, chi K11 Art Museum, Shanghai (2015).
Recent group exhibition includes: We Chat: A Dialogue in Contemporary Chinese Art, Asia Society Texas Center, Houston, USA; The Work in Progress: Photography from China, Museum Folkwang, Essen, Germany (2015);Performance and Imagination: Chinese Photography 1911 - 2014, Stavanger Art Museum, Stavanger, Norway (2014); My Generation: Young Chinese Artists, Tampa Museum of Art, Tampa, FL. and Museum of Fine Arts, St. Petersburg, Florida, U.S.A.(2014); ON | OFF: China's Young Artists in Concept and Practice, Ullens Center for Contemporary Art (UCCA), Beijing, China (2012); 28 CHINESE, Rubell Family Collection/Contemporary Arts Foundation, Miami, USA (2013) etc.

Chen Wei is awarded by Asia Pacific Photography Prize in 2011, and nominated by Prudential Eye Awards for Contemporary Asian Art in 2015.
-----
Related Artists:
CHEN WEI 陈维
Related Exhibitions:
上海香格纳文化艺术品有限公司
办公地址:上海市徐汇区西岸龙腾大道2555号10号楼
© Copyright
ShanghART Gallery
1996-2022

沪公网安备 31010402001234号