Apichatpong Weerasethakul
2017-09-03 15:48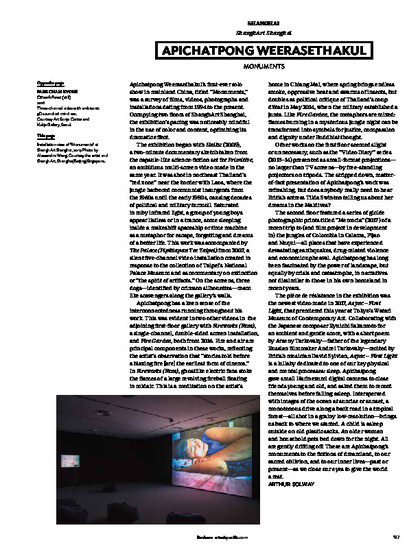 Apichatpong Weerasethakul's first-ever solo show in mainland China, titled "Monuments," was a survey of films, videos, photographs and installations dating from 1994 to the present. Occupying two floors of ShanghArt Shanghai, the exhibition's pacing was noticeably mindful in the use of color and content, optimizing its dramatic effect.

The exhibition began with Haiku (2009), a two-minute documentary sketch taken from the capsule-like science-fiction set for Primitive, an ambitious multi-screen video made in the same year. It was shot in northeast Thailand's "red zone" near the border with Laos, where the jungle harbored communist insurgents from the 1960s until the early 1980s, causing decades of political and military turmoil. Saturated in ruby infrared light, a group of young boys appear listless or in a trance, some sleeping inside a makeshift spaceship or time machine as a metaphor for escape, forgetting and dreams of a better life. This work was accompanied by The Palace (Pipittapan Tee Taipei) from 2007, a silent five-channel video installation created in response to the collection of Taipei's National Palace Museum and as commentary on extinction or "the spirit of artifacts." On the screens, three dogs—identified by crimson silhouettes—roam like scavengers along the gallery's walls.

Apichatpong has a keen sense of the interconnectedness running throughout his work. This was evident in two other videos in the adjoining first-floor gallery with Fireworks (Fans), a single-channel, double-sided screen installation, and Fire Garden, both from 2016. Fire and air are principal components in these works, reflecting the artist's observation that "stories told before a blazing fire [are] the earliest form of cinema." In Fireworks (Fans), ghostlike electric fans stoke the flames of a large revolving fireball floating in midair. This is a meditation on the artist's home in Chiang Mai, where spring brings endless smoke, oppressive heat and swarms of insects, but doubles as political critique of Thailand's coup d'état in May 2014, when the military established a junta. Like Fire Garden, the metaphors are mixed: flames burning in a mysterious jungle night can be transformed into symbols for justice, compassion and dignity under Buddhist thought.

Other works on the first floor seemed slight or unnecessary, such as the "Video Diary" series (2013–14) presented as small-format projections— no larger than TV screens—by free-standing projectors on tripods. The stripped down, matter-of-fact presentation of Apichatpong's work was refreshing, but does anybody really need to hear British actress Tilda Swinton telling us about her dreams in the Maldives?

The second floor featured a series of giclée photographic prints titled "Memoria" (2017) of a recent trip to (and film project in development in) the jungles of Colombia in Calarca, Pijao and Nuqui—all places that have experienced devastating earthquakes, drug-related violence and economic upheaval. Apichatpong has long been fascinated by the power of landscape, but equally by crisis and catastrophe, in narratives not dissimilar to those in his own homeland in recent years.


The pièce de résistance in the exhibition was the newest video made in 2017, Async – First Light, that premiered this year at Tokyo's Watari Museum of Contemporary Art. Collaborating with the Japanese composer Ryuichi Sakamoto for an ambient and gentle score, with a short poem by Arseny Tarkovsky—father of the legendary Russian filmmaker Andrei Tarkovsky—recited by British musician David Sylvian, Async – First Light is a lullaby dedicated to one of our key physical and mental processes: sleep. Apichatpong gave small Harinezumi digital cameras to close friends young and old, and asked them to record themselves before falling asleep. Interspersed with images of the ocean at sunrise or sunset, a monotonous drive along a back road in a tropical forest—all shot in a grainy low-resolution—brings us back to where we started. A child is asleep outside on old plastic sacks. An older woman and household pets bed down for the night. All are gently drifting off. These are Apichatpong's monuments to the fictions of dreamland, to our sacred oblivion, and to our inner lives—past or present—as we close our eyes to give the world a rest.
-----
Related Artists:
APICHATPONG WEERASETHAKUL 阿彼察邦·韦拉斯哈古
---
上海香格纳文化艺术品有限公司
办公地址:上海市徐汇区西岸龙腾大道2555号10号楼
© Copyright
ShanghART Gallery
1996-2022

沪公网安备 31010402001234号