Performing a Performance Lecture | Art & Market
2023-09-23 19:59
Amidst the buzz of Singapore Art Week, ShanghART Gallery presented a two-part performance-lecture series by Melati Suryodarmo, curated by Kimberly Shen. Through a series of "mini-performances", the artist presented a selection of previous iterations from her practice within the last two decades. Against the backdrop of the current state of the world in the times in which they were performed, these powerful talks evolved into the installations of her solo exhibition 'Unpacked'.

"Unpacking" the suitcases she carries with her on her journeys around the globe, these performance/lectures set a tone of intimacy with the audience. The spectators were up close and sitting on the floor, which added a sense of familiarity and solidarity. The objects and artifacts contained within the luggage are an embodiment of the artist's life experiences as she moves through the world to perform, educate, and mentor. Relics forthcoming from the suitcases included a bowl with a goldfish in it, a whip, ropes, high-heeled shoes, and more, all from a plethora of earlier presentations.

Suryodarmo spoke about ideas such as love, illusions, tragedies, and humanity. She illustrated how she is influenced by other artists, across all their mediums, and that as global current affairs transpire, she is influenced by them. Memories are evident in her performances. Besides displaying videos of previous performances, such as 'If We Were XYZ', and analysing them for the viewer, she also shared images of the demise and dismantling of the Berlin Wall, student demonstrations in 1989 in Bandung, Indonesia, a picture of Pablo Picasso, and a video excerpt of Judy Garland singing 'Somewhere Over the Rainbow' in the film 'The Wizard of Oz', just to name a few. The clips played in the background of her discourse, with the aim of prompting universal memories, and reminding the audience to reminisce.

Suryodarmo has often said that performing is not about trying to make the audience feel or experience HER own emotions or happenings. Her desire is to explore if there are common familiarities between her and the audience that her performances can reveal. About the 'Unpacked' lectures, she said, "I want to bring the audience in to understand political actions." She added, "To share a sense of awareness in the same time and place, and everyone has memories of cruelty even if it didn't happen to them." In this she truly succeeds. At the second lecture, one spectator remarked, "Whenever she asks the audience to participate, she succeeds in making us feel connected to her. It felt almost maternal and safe, so we ended up unpacking our own psychological baggage."

Suryodarmo's performances are influenced by traditional Javanese practices, as well as Butoh, a style of modern Japanese dance that employs the nervous system, to produce movements. These somatic gestures can be effectual triggers for the artist-to-audience relationship in that they open portals to memories and the moods associated with them.

Although the cultural and historical differences in a diverse audience's narratives may be different, the visceral reactions we experience can be shared with those around us. In the end, although all the love, joys, pain, and sufferings we have witnessed or felt may differ from one another and exist in silo, Suryodarmo wants us to remember them communally in the instance of, and within the context of, a performance.

Towards the end of the second performance lecture, while distributing canes to the audience and asking them to strike the floor with them she asked, "How many of our ancestors have suffered oppression?" and "How many of us are having an inborn revenge? Let's make a choir of memory of cruelty! Close your eyes and remember!"

It is this communal transaction that caused one spectator to tearfully share with me her poignant story about her inherited trauma. Her Polish mother's father, who was an Army officer, was murdered by the Russians during the Katyn forest massacres, a series of mass executions in 1940 carried out by the Soviets of nearly 22,000 Polish military officers and prisoners of war. Her grandmother and her mother were sent to a labour camp in Siberia but eventually succeeded in escaping. She said, of the performance lecture; "…Melati was asking us to remember all these violences against each other, and the recounting of her personal journey was delivered in much the same way my mother would talk about her past, her pain and trauma…"

The performance abruptly ended with the smacking of the canes when Suryodarmo yelled "Stop! Thank you!" Clapping vigorously, the audience breathed out a collective gasp, a sigh of release. There are not many art forms that can evoke such vulnerable and authentic responses in a collective consciousness. This is where Suryodarmo categorically demonstrates her power as a performer, and the audience – pushed to the edge – breathlessly responds.
-----
Related Works: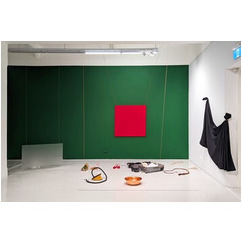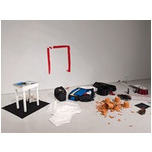 Related Artists:
MELATI SURYODARMO 麦拉蒂·苏若道默
Related Exhibitions:
上海香格纳文化艺术品有限公司
办公地址:上海市徐汇区西岸龙腾大道2555号10号楼
© Copyright
ShanghART Gallery
1996-2022

沪公网安备 31010402001234号