Recherche(Ministre/Judge/Diplomate)- formula and size
2007
Ministre

1) Assortiment de fruits rouges et bleus: (framboises, griottes, cerises, groseilles, mures, cassis, myrtilles) (assortment of classic red fruits such as strawberries, raspberries,
redcurrants and cherries, and also blueberries, myrtle, blackberry or blackcurrant)
2) Sirop au guignolet (Guignolet syrup)
3) Cube de guimauve (marshmallow cube)

From the text:
...Le ministre used to be a soup made of fruits, which was usually served cold
a combination of classic red fruits such as strawberries, raspberries, redcurrants and cherries, with a marked preference in the last instance, for the soft-fleshed acid varieties, such as the guigne sweet cherry or the Morello-cherry
...pastry confectioners like to resort to an assortment of blueberries, myrtle, blackberry or blackcurrant
...Guignolet is a liqueur made from guignes (sweet cherries)
...Ministres are now served in pretentious small glass-casings called 'verrines', which are always colourless, and are adorned with a gew-gaw made of a marshmallow cube stuck on a plain little stick



Juge

1) Biscuit Sacher à la pate d'amande crue. (mellow Sacher sponge-cake, made from raw
almond paste)
2) Confiture de groseilles. (redcurrant or gooseberry jelly)
3) Mousse au chocolat. (chocolate mousse)
4) Glacage au chocolat. (chocolate icing) ...et une plume. (a feather)

From the text :
...Beneath the chocolate icing, which entirely covers le juge is hidden a thin cushion of redcurrant jelly, a remarkable combination of acidity and sweetness, heightened by the crunchiness of its tiny pips. This acidic marmalade reclines on a bed of chocolate mousse whose bitterness compensates the head-notes whilst making it less cloying to the palate. These two layers of bittersweet compromise rest comfortably on a thick sponge-cake base. Generally, the summit of le juge's body is adorned with a fan-shaped ribbed chocolate decoration, completed by artistically disposed fresh redcurrants.
...It is part of a tradition that goes back to the middle of the fourteenth century and originates in Bar-le-Duc, in Lorraine: that is where a gourmet apothecary invented a redcurrant jelly which was seeded by a goose feather.
...He modified the dessert's structure by adding a thick and very mellow Sacher sponge-cake, made from raw almond paste and cocoa powder
...A taciturn Lorran pastry confectioner it was, who tired of hearing his finicky clients reproach him with the disappearance of the goose-feather seeded jelly, added one last touch to le juge's reform by adding an original decoration: a little feather planted right in its heart, as he called it politely. So that those who were not content could seed the gooseberry jam themselves before eating the dessert.



Diplomate

1) Biscuit joconde. (Joconde cake)
2) Lait d'amande. (Almond milk)
3) Crème diplomate. (Diplomate cream)
4) Compote d'ananas. (Pineapple or any other fruit)


From the text :
Traditional diplomate
...Le diplomate which concerns us here is composed of only three elements—spoon cake, diplomate cream and fruit—and these are disposed very simply as follows: a layer of cake, hidden under a layer of cream, which in turn is hidden by a layer of fruit, and this is repeated once or twice.
Reformed diplomate
...As for the first element, a very simple almond cake would be just fine. Both mellow and savoury, once imbibed with syrup or rather almond milk, it would produce an agreeable textural contrast with the other elements. The diplomate cream would be much more interesting if it was lightened up and given an added stiffness. It can be perfumed with a bit of alcohol; yet in this case it would be better to choose an old refined amber rum from Martinique, whose perfume only will penetrate the cream, without the heavy relents of alcohol. These small modifications would be enough to give le diplomate a bit of vitality, but the essential part is how to work the fruit. An apricot jelly, or even a simple orange zest marmalade, would make it a delicious dessert. Yet it would be an error to hamper gustative experimentation by exclusive prescriptions: the ideal would be to use only fruit in season, the best pick of the moment, and to renew these fruits all along, which is not the case in the traditional, heavy and stolid diplomat, which is alien to the notion of freshness itself. The raspberry, the fig or the mango would all be glorious, each in its own way; as for the pineapple, it would have to simmer awhile in sugar so that its natural acidity wouldn't alter the diplomate cream's firmness beneath it; but it would become a feast with a bit of quince tenderised and candied with a bit of vanilla from Tahiti.
...Finally at the moment of putting it together, one should limit oneself to two layerings, and then pour a fine layer of cream on the whole, in order to cover the cumulative structure and to give more elegance to the edifice. Fresh fruit of the same type as those of the filling can be used to decorate the top of the dessert.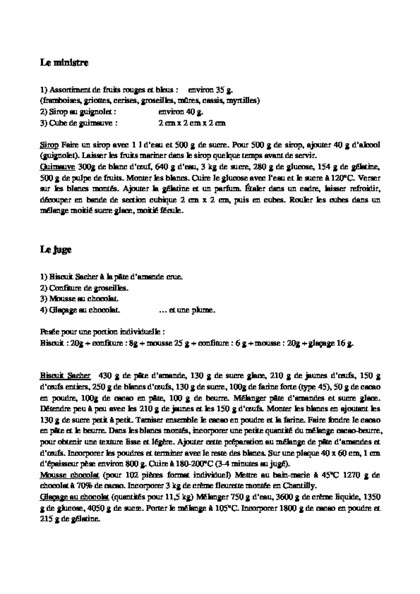 Download 87.2KB
|
Open
2009-02-02 19:34
Type: Artist
Related Artists:
Related Works:
上海香格纳文化艺术品有限公司
办公地址:上海市徐汇区西岸龙腾大道2555号10号楼
© Copyright
ShanghART Gallery
1996-2022

沪公网安备 31010402001234号