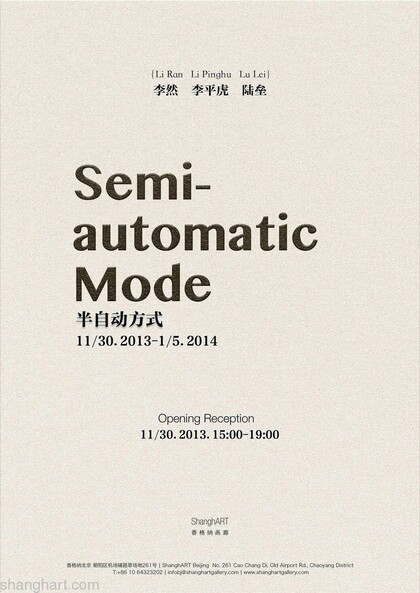 Introduction
Semi-automation is a realistic condition: It is both pushed and pulled by reality, also offers an auto-generated attitude to reality which couldn't be auto-generated; Semi-automation is a psychological state: It is governed by subjectivity and objectivity one after another so as to injected oneself into a condition of rejecting "integrity"; Semi-automation is a reality of territory: It is a history that mixes and intersects all kinds of chances, expectations and accidents, a joint which may be deliberately or automatically in all kinds of ideology.
Semi-automation is a creative condition: There may be no absolutely autonomic creation when Semi-automation replaces it as a manner of creation or thought to link with plan and implementation, front and back, work and exhibition; the semi-random and semi-deliberate, semi-conscious and semi-mad, half-loath and half-consenting condition, which admits half-finish for self, can also refresh oneself at any moment to overthrow a non-existent production line.
The exhibition is wished to break rules with no purposely selected works in order to discover more possibilities of art creation via this kind of "semi-automatic mode".