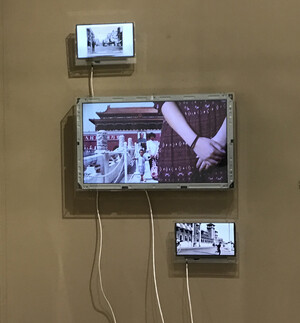 HU JIEMING 胡介鸣
2017
(in 3 pieces) | Screen one 47*78*9cm 1 minute 1 second | Screen two 20.5*31*3.5cm 1 minute 36 seconds | Screen three 20.5*31*3.5cm 54 seconds
Video | Multi-channel video | Installation
IPS screen, PC host
code:
HJM_9769
The old photos are collected from Taobao (like ebay). The artist inputs characters from modern space and time with synthetic technique.

Screen one
It is an old photo of a lady from countryside with her child at Jinshui Bridge, Tiananmen Sqaure in 1970s. That was what every tourist in Beijing would do in old times. The arranged model in red dress at front, nervously and restless, moves back and forth.

Screen two
It is Huangpi Road in Shanghai in the 1930s. The architecture in the photo is Shanghai Race Club where depicts numerous stories with laughter and tears. A modern dancer is input by the artist and anxiously expresses the vitality through his performance, which recalls those hustle and bustle in old times.

Screen three
It is Nanjing Road in the 1930s where is the most popular place in Shanghai. A modern lady, coming from different space and time, enters and stares at the surroundings for a while before she leaves.
Detail pictures: