MICHAEL DEAN 迈克尔·迪恩
b. 1977, works and lives in London, U.K.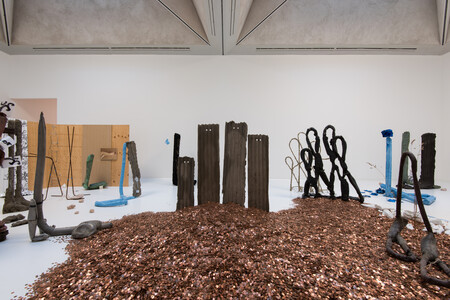 MICHAEL DEAN 迈克尔·迪恩
2016
Coins, concrete, reinforcement steel, paperback publications, book pages, ink stained publications, ink stained pages, tree straps, chain link fence, soil, acrylic paint, weeds, plaster, tape, corrugated metal, vinyl print, MDF frame, inkjet print, stickers
MDN_9347
Dean is one of the fourshortlisted artists for Turner Prize 2016. The work (United Kingdom poverty line for two adults and two children: twenty thousand four hundred and thirty-six pounds sterling as published on 1st September 2016) presented at Turner Prize consists of £20,436 in pennies which is the minimum amount money that two adults and two children need to survive for a year in the UK stated by the government. Dean removed one penny while installing the work, which means the money right before the audience is under the poverty line.
Detail pictures: