Xue Song: The Mountain Echoes
Solo Exhibition ShanghART Singapore, Singapore
Date: 01.22, 2016 - 05.08, 2016
Artists:
XUE Song 薛松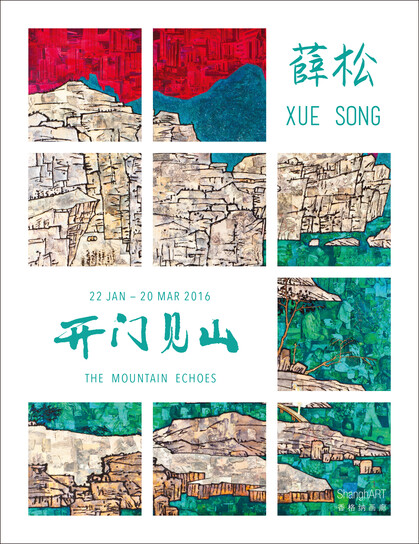 Opening: 22 January 2016, 4 - 6pm
Duration: 23 January – 20 March 2016, 11am – 7pm (Closed Every Monday)
Address: ShanghART Singapore, 9 Lock Road, #02-22 Gillman Barracks, Singapore 108937
Contact: +65 6734 9537 | infosg@shanghartgallery.com
Website: www.shanghartsingapore.com
Facebook: www.facebook.com/shanghartgallerysg
ShanghART Singapore is pleased to present one of the pioneer "Pop Art" artists in China – Xue Song's solo exhibition, titled 'The Mountain Echoes' from 22nd January to 20th March 2016. The exhibition will showcase his widely known collage of landscapes and poetry. The official opening will be held on 22 January, Friday, 4-6pm. 
Due to his unique artistic language and style, which he uses not only printed images and texts but also soot and ashes to create his work in the early 1990s, he became one of the most influential and representative artists of Chinese Contemporary Art. In his artwork, each fragment expresses the complex aspects of the Chinese history and culture. 
---
More Pictures:
Works Exhibited :
---
上海香格纳文化艺术品有限公司
办公地址:上海市徐汇区西岸龙腾大道2555号10号楼
© Copyright
ShanghART Gallery
1996-2022

沪公网安备 31010402001234号