Continuance - The 20th Anniversary Special Exhibition of M50
Group Exhibition Innovation Plus ArtSpace, Shanghai
Date: 11.29, 2019 - 12.20, 2019
Artists:
DING Yi 丁乙
|
PU Jie 浦捷
|
SHI Yong 施勇
|
WU Yiming 邬一名
|
XIANG Liqing 向利庆
|
XUE Song 薛松
|
XU ZHEN® 徐震®
|
ZHANG Enli 张恩利
|
ZHOU Tiehai 周铁海
|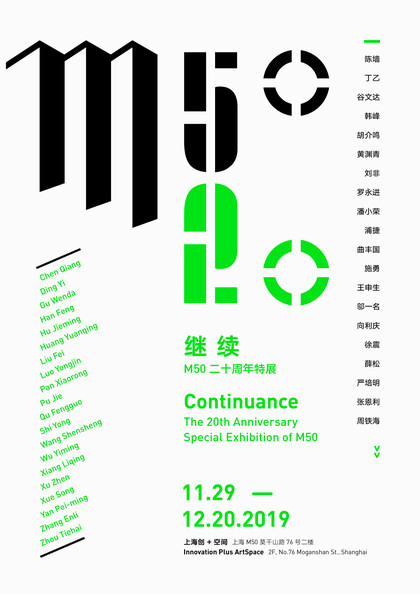 Opening:2019/11/29, 14:00-16:00
Exhibition:2019/11/29–12/20 (Tuesday–Sunday 10:00–18:00,Monday Closed)
Location: Innovation Plus ArtSpace 2F. No.76 Moganshan St.shanghai
To commemorate the 20th anniversary of M50, M50 will launch "Continuance - The 20th Anniversary Special Exhibition of M50" from November 29th to December 20th, 2019. The exhibition will invite 20 outstanding artists who once settled in M50 and select their past works in M50 for exhibition. It is not only a review of M50's artistic fostering results in the past 20 years, but also a eager hope that M50 will continue to pass the cultural heritage in the future and continue to deliver artistic talents to Shanghai.

As an early gathering place for Shanghai artists, M50 has been transformed and upgraded several times. It is now a nationally renowned art park and an important landmark representing the achievements of Shanghai's spiritual civilization. During these two decades, M50 grew up with artists who have settled in the area and together witnessed Chinese contemporary art taking root here and going to the world. As one of the first galleries to enter M50, ShanghART Gallery assisted in the selection and invitation of 20 outstanding artists to participate in this exhibition. They are chen qiang, ding yi, gu wenda, han feng, hu jieming, huang yuanqing, liu fei, luo yongjin, pan xiaorong, pu jie, qu fengguo, shi yong, wang shensheng, wu yiming, xiang liqing, xu zhen, xue song, yan peiming, zhang enli, zhou tiehai. These outstanding artists have created a wide variety of works of art in this area along the banks of the Suzhou River, and their works have been exhibited in important biennials, fairs, expo and art events around the world.

From the inexperienced beginning, to the prosperous growth, and even today becoming a model of the national art park, M50's fruitful results are inseparable from the strong support of the city government, the district government, the artist's hard work, and the way art lovers have been with them for many years. Looking back over the past 20 years, M50, as one of the most important art brands in Shanghai, has always been a cultural appeal of the spirit of Shanghai, "Be tolerant to diversity, Be excellence, Enlightened wisdom, Humble atmosphere". M50 strives to build a good platform for artists, and to become a powerful driving force for the overall advancement of Shanghai and even Chinese art scene, with an open era and artistic vision. Taking "Continuance" as the theme of this special exhibition is not only the expectation that M50 will build on past achievements and open up the future, but also the deep gratitude to the supporters for many years - your trust and companionship, gives M50 the motivation to continue marching forward.

Standing on a new starting point of 20 years, M50 will cherish and make full use of cultural resources and advantages in the future, and continue to carry forward Shanghai's unique cultural style and characteristics, making important efforts to construct a vibrant Chinese contemporary art scene. Carrying on the cultural heritage, passing down the art legacy, the story of M50 and Shanghai will continue.
---
More Pictures:
Works Exhibited :
---
上海香格纳文化艺术品有限公司
办公地址:上海市徐汇区西岸龙腾大道2555号10号楼
© Copyright
ShanghART Gallery
1996-2019

沪公网安备 31010402001234号