Zhang Ding: Orbit of Rock
Solo Exhibition ShanghART Beijing, Beijing
Date: 04.30, 2014 - 06.08, 2014
Artists:
ZHANG Ding 张鼎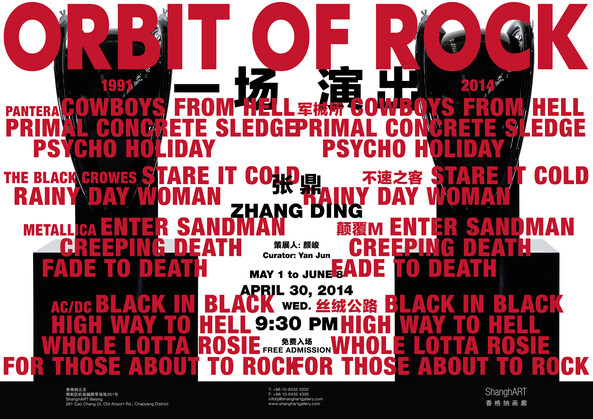 Concert: 30th April 2014, 21:30 - End
Exhibition: 30th April - 8th June 2014, 11:00 - 18:00 (Mon. Closed)
ShanghART Beijing is pleased to invite you attending "Orbit of Rock", a new solo project of artist Zhang Ding, at 21:30pm of Apr. 30th 2014. Zhang Ding will magically turn ShanghART Beijing into a live concert on that occasion and bring 13 rock songs from 4 bands, listed as below:

"Pantera":
Cowboys from Hell
Primal Concrete Sledge
Psycho Holiday

"The Black Crows":
Stare it Cold
Rainy Day Woman

"Metallica":
Enter Sandman
Creeping Death
Fade to Black   

"AC/DC":
Back in Black
Highway to Hell
Whole Lotta Rosie
For those about to Rock
……

It was a great performance in the history of rock and roll, while it will be reinterpreted on Apr. 30th, 2014.
---
More Pictures:
Installation View | April 30th, 2014
Ordnance-Pantera
Los Crasher-The Black Crows
Ego Fall M-Metallica
Velvet Road‎-AC/DC
Related Texts:
Related PDF:
Works Exhibited :
Related Exhibitions:
ShanghART Video Art Salon / Screening
10.28, 2017

Links:
---
上海香格纳文化艺术品有限公司
办公地址:上海市徐汇区西岸龙腾大道2555号10号楼
© Copyright
ShanghART Gallery
1996-2019

沪公网安备 31010402001234号