Lin Aojie: Designers Have a Future Only When They Treat Artworks as Initial Inspiration
2019-11-07 15:25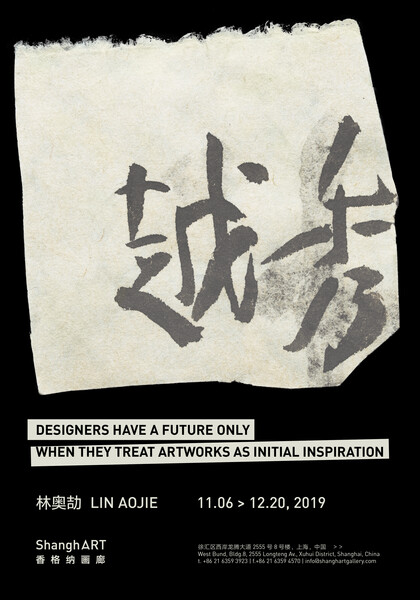 媒体下载:点击下载
Opening:2019/11/06, 16:00
Exhibition:2019/11/06 – 12/20 (Tuesday–Sunday 11:00–18:00,Monday Closed)
Address: West Bund, Bldg.8, 2555 Longteng Avenue, Xuhui District, Shanghai, China, 200232

From 6 November to 20 December 2019, ShanghART Gallery is pleased to present Lin Aojie' solo exhibition 'Designers Have a Future Only When They Treat Artworks as Initial Inspiration' at Building No. 8, West Bund, Shanghai. On view will be new works, such as painting, video and text, made after Lin's solo show at ShanghART Beijing earlier this year.

Lin's work always approaches the entire art ecology and the power of art system in a causal yet direct way, so as to conduct multi-dimensional examination and one-sided intervention. Continuing exploration of the identity of an artist and the development of art industry as in the Beijing show, this exhibition focuses on Lin Aojie's personal experience in receiving art education. On that basis, it not only conveys Lin's unique cognition and geopolitical thinking on art history, but also results in further practical actions.

As the title says, 'Designers have a future only when they treat artworks as initial inspiration', Lin Aojie also wanders around the intersections between art, design and popular culture, while the Chinese title 'Yue Xiu' is actually the name of a district in Guangzhou. The artist creates a series of animal stickers for the five spaces of ShanghART Gallery in Shanghai, Beijing and Singapore – with this solo exhibition these creative stickers will appear in corresponding spaces, acting as a subtle catalyst for the viewer's imagination.

About the artist

Lin Aojie was born in Guangzhou in 1986 and graduated from Guangzhou Academy of Fine Arts, Oil Painting Department in 2010. He currently lives and works in Guangzhou. Recent exhibitions include: Very Natural Actions, Tai Kwun Contemporary, Hong Kong, China (2019); The Curation Workshop - Exhibition Curation and Design, OCT Art & Design Gallery, Shenzhen (2019); The 1st Airport Biennale, Airport Town, Guangzhou (2019); Lin Aojie: Those Who Like Playing Tricks Usually Don't Live a Good Life, ShanghART Beijing (2019); Light Pavillion Project: The Comfort Zone at a Distance, Taikang Space, Beijing (2018); Emerging Curators Project 2018, Power Station of Art, Shanghai (2018); The New Masses, Art Museum of Nanjing University of the Arts, Nanjing (2018); Shared Narrative(s), ShanghART S-Space, Beijing (2018); The 7th edition Bi-City Biennale of Urbanism \ Architecture, Shenzhen (2017); If You Throw Enough Mud at the Wall, None of It Will Stick, A+ Contemporary, Shanghai (2017) etc. He was nominated for the 2016 Art Sanya Huayu Youth Award.
-----
Related Artists:
LIN AOJIE 林奥劼
Related Exhibitions:
---
上海香格纳文化艺术品有限公司
办公地址:上海市徐汇区西岸龙腾大道2555号10号楼
© Copyright
ShanghART Gallery
1996-2022

沪公网安备 31010402001234号