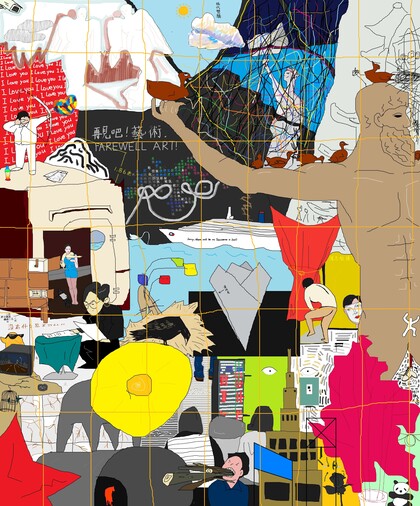 Introduction
Lin Aojie was born in Guangzhou in 1986 and graduated from Guangzhou Academy of Fine Arts, Oil Painting Department in 2010. He currently lives and works in Guangzhou.
Presented through video, photography, painting, text, etc., Lin Aojie's artistic practice departs from his personal experiences. The artist has a keen and delicate record of the trivial details of daily life or deliberately planned events with strongly improvisatory and humorous images, while a seemingly dispassionate tone threads the whole narrative structure. By beating around the bush he tries to question, ridicule and criticize the capitalist mode of production, artist's survival predicament and the relationship between artists and other art professionals.
Recent exhibitions include: Lin Aojie: Designers Have A Future only When They Treat Artworks as Initial Inspiration, ShanghART Shanghai West Bund, Bldg.8 (2019); Very Natural Actions, Tai Kwun Contemporary, Hong Kong, China (2019); The Curation Workshop - Exhibition Curation and Design, OCT Art & Design Gallery, Shenzhen (2019); The 1st Airport Biennale, Airport Town, Guangzhou (2019); Light Pavillion Project: The Comfort Zone at a Distance, Taikang Space, Beijing (2018); Shared Narrative(s), ShanghART S-Space, Beijing (2018) etc. He was nominated for the 2016 Art Sanya Huayu Youth Award.
上海香格纳文化艺术品有限公司
办公地址:上海市徐汇区西岸龙腾大道2555号10号楼
© Copyright
ShanghART Gallery
1996-2019

沪公网安备 31010402001234号