Lu Lei: Wander Giant
Solo Exhibition ShanghART, Shanghai
Date: 11.06, 2019 - 12.29, 2019
Artists:
LU Lei 陆垒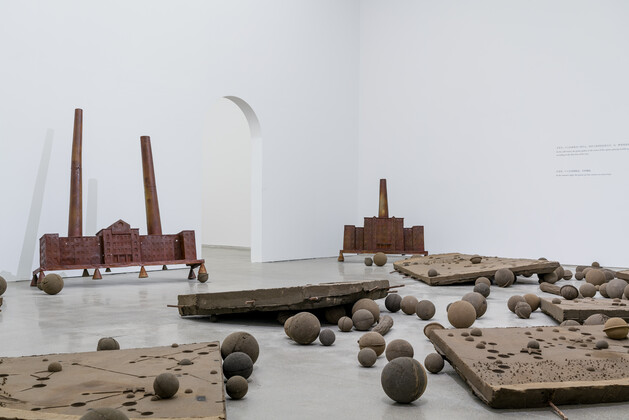 Opening: 2019/11/06, 16:00
Duration: 2019/11/06-12/29 (Tue.-Sun. 11am-6pm, Mon. Closed)
Location: 1/F ShanghART Shanghai, West Bund, Bldg.10, 2555 Longteng Avenue, Xuhui District, Shanghai, China
ShanghART Gallery is pleased to present Lu Lei's solo exhibition "Wander Giant" on November 6 during 2019 Shanghai Art Week. This is Lu Lei's first solo show in Shanghai and his second with ShanghART Gallery, featuring the artist's latest works from the past four years since his solo "Echo" in 2015, ShanghART Beijing.

"I would like to write 'a novel', about my memory and perception, as well as all the absurd ideas..."
-- Lu Lei

"Wandering Giant" is a project that Lu Lei has been planning for years, of which this exhibition is one of the sections. The artist uses textual narrative as an attempt, to depict a "fantasy of wandering giants" through five sculptures and installations. This exhibition continues until December 29, 2019.


About the artist

Lu Lei (b.1972, Jiangsu), lives and works in Beijing. He graduated from Sculpture Department of China Academy of Art in 1998. Recent exhibitions include: The First Airport Biennale, Airport Town, Guangzhou (2019); Heteroglossia, How Art Museum, Shanghai (2018); Forty Years of Sculpture · The First Term, Shenzhen Contemporary Art and Urban Planning Museum, Shenzhen (2017); The Third Today's Documents: BRIC-à-brac, Today Art Museum, Beijing (2016); Post-sense Sensibility: Trepidation and Will, Beijing Minsheng Art Museum, Beijing (2016); Lu Lei: Echo, ShanghART Beijing, Beijing (2015) etc.
---
More Pictures:
---
上海香格纳文化艺术品有限公司
办公地址:上海市徐汇区西岸龙腾大道2555号10号楼
© Copyright
ShanghART Gallery
1996-2019

沪公网安备 31010402001234号