Art Basel Hong Kong 2020 , Online Viewing Rooms
Group Exhibition Art Fairs
Date: 03.18, 2020 - 03.25, 2020
Artists:
BIRDHEAD 鸟头
|
CHEN Wei 陈维
|
DING Yi 丁乙
|
HE Wei 何伟
|
JIANG Pengyi 蒋鹏奕
|
LIN Aojie 林奥劼
|
LIU Weijian 刘唯艰
|
LIU Xiaohui 刘晓辉
|
LIU Yue 刘月
|
SUN Xun 孙逊
|
TANG Maohong 唐茂宏
|
XU ZHEN® 徐震®
|
YAN Bing 闫冰
|
YANG Fudong 杨福东
|
YU Youhan 余友涵
|
ZHANG Ding 张鼎
|
ZENG Fanzhi 曾梵志
|
ZHU Jia 朱加
|
ZHAO Yang 赵洋
|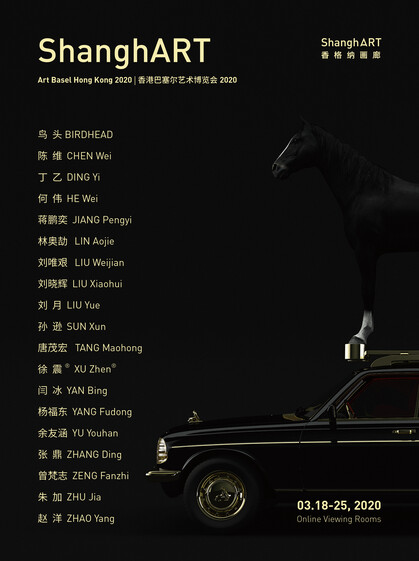 This online exhibition is entitled "Nightshapes", which is inspired by the German film " Nachtgestalten". Art itself is like exploring the shape of the night in the dark, and the artists keep moving forward boldly in the unknown. ShanghART Gallery is honored to present works of art by 19 innovative Chinese contemporary artists during the 7-day online exhibition where visitors can enjoy different and wonderful works every day. In this online exhibition, you will see the latest work of Ding Yi's "Appearance of Crosses" series, which combines the forms of woodcut and painting, Xu Zhen's "MadeIn Curved Vase - Vault-of-Heaven Vase with Peach Design, Qianlong Period, Qing Dynasty", the installation that reverses the contours of civilization, which is created after repeated experiments to make the bottleneck turn 90 degrees, Yu Youhan's 1999 classic political pop series " A Pocket Western Art History about Mao", Yang Fudong's early classic photography series "Seven Intellectuals in Bamboo Forest", and Zeng Fanzhi's latest work "Zi Qi Dong Lai", which conveys a completely different visual experience.

ShanghART Gallery also pays close attention to new works of Chinese contemporary art and the newcomers. The audience can enjoy the latest creations of some artists, such as Zhang Ding's latest photography series "High-speed Forms", which substantiates the "Emotional Sculpture" into the relationship between the audience and the commercial advertising language flooding the global visual culture, Sun Xun's film scene designing works of his new cinematic narrative film "Magic of Atlas", and Zhu Jia's latest oil painting series "Paintings of the Everyday" which will be exhibited at ShanghART Gallery in 2020. And there will also be works of emerging artists of contemporary Chinese art such as He Wei, Lin Aojiu, and Yan Bing.

The exhibited works include painting, photography, installation and other forms, as well as works from their latest collections which will be exhibited in ShanghART's upcoming exhibitions this year. The artists are all depicting the shape of the night from their own perspectives.
---
Works Exhibited :
---
上海香格纳文化艺术品有限公司
办公地址:上海市徐汇区西岸龙腾大道2555号10号楼
© Copyright
ShanghART Gallery
1996-2019

沪公网安备 31010402001234号