Shanghai Surprise , A Group Show on Contemporary Art in Shanghai
Group Exhibition K11 Art Mall, Shanghai
Date: 03.01, 2013 - 04.10, 2013
Artists:
BIRDHEAD 鸟头
|
CHEN Wei 陈维
|
DING Yi 丁乙
|
LIANG Yue 梁玥
|
SONG Tao 宋涛
|
SHI Yong 施勇
|
XU Zhen 徐震
|
XU ZHEN® 徐震®
|
YANG Fudong 杨福东
|
YANG Zhenzhong 杨振中
|
ZHANG Enli 张恩利
|
ZHOU Tiehai 周铁海
|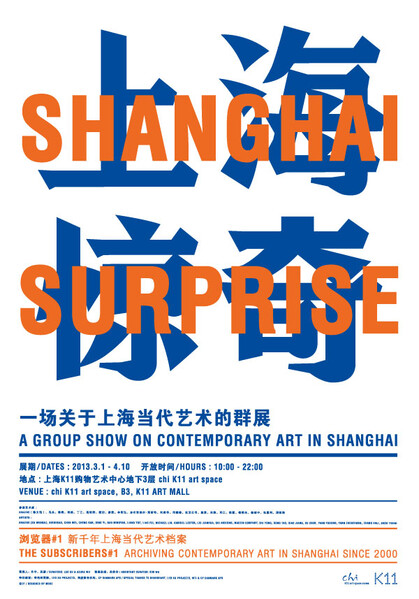 DATES: 2013.3.1 – 4.10
HOURS: 10:00 – 22:00
VENUE: chi K11 art space, B3, K11 Art Mall

ARTISTS:
Aaajiao (Xu Wenkai), Birdhead, Chen Wei, Cheng Ran, Ding Yi, Gao Mingyan, Gabriel Lester, Liang Yue, Liao Fei, MadeIn Company, Michael Lin, Liu Jianhua, MadeIn, Qiu Anxiong, Shi Yong, Song Tao, Xiao Jiang, Xu Zhen, Yang Fudong, Yang Zhenzhong, Zhang Enli, Zhou Tiehai

CURATORS: Leo Xu & Azure Wu
ASSISTANT CURATOR: Kim Wu

SPECIAL THANKS TO SHANGHART, LEO XU PROJECTS, WTI & CP DANMARK APS

SHANGHAI SURPRISE is curated by Shanghai‐based Leo Xu and Azure Wu who have spotted and experienced much of the city's metamorphosis from 2000 to present, during their curatorial stint at local museums and later positions in curating, art dealing and publishing. Inspired by an empathy with a film's title, this eponymous project is envisioned as a capsule of time and space rather than an encyclopedic gesture.

SHANGHAI SURPRISE comprises two parts, one is an group exhibition featuring works by defining artists, young generation of Chinese and expat authors who bear a strong tie with Shanghai – be it geographically or culturally – and the other a mobile library that captures the transformation of the city's cultural landscape.

Central to the exhibition is a selection of works that are rarely seen in Shanghai or less exhibited and possibly fading into oblivion after premiere. Being less iconic, this body of works is deemed by the two curators as a distinctive narrative to unfold the last ten years' production of contemporary art in Shanghai. These works will be complemented by a presentation of recent output by younger Shanghai‐based artists.

Titled THE SUBSCRIBERS #1: ARCHIVING CONTEMPORARY ART IN SHANGHAI SINCE 2000, the mobile library is scattered across the entire exhibition space and provides access to a rich collection of printed matters and digital resources both documenting the activities of Shanghai‐based artists, collectives, and programs of institutions, galleries, alternative spaces and cultural councils of foreign consulates in Shanghai.
---
More Pictures:
Exhibition View Photo by Justin Jin
Works Exhibited :
Related Exhibitions:
Truth, Beauty, Freedom and Money
05.25, 2013 -07.28, 2013
---
上海香格纳文化艺术品有限公司
办公地址:上海市徐汇区西岸龙腾大道2555号10号楼
© Copyright
ShanghART Gallery
1996-2022

沪公网安备 31010402001234号