Liu Weijian: Under the Sun
Solo Exhibition
ShanghART H-Space, Shanghai
Date: 03.22, 2014 - 04.24, 2014
Artists:
LIU Weijian 刘唯艰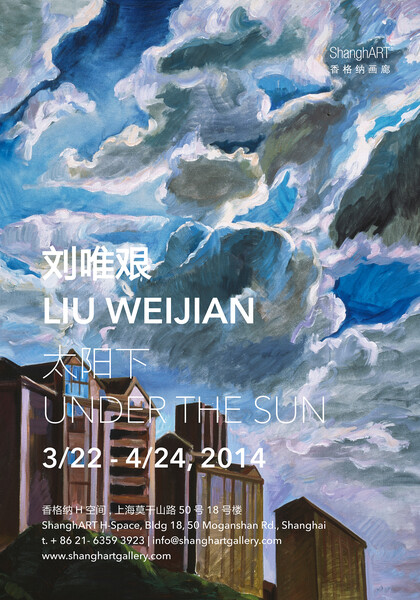 Date: March 22 - April 24, 2014, Daily 10:00 -18:00
Opening: March 22 (Saturday), 2014, 16:00 - 19:00
Location: ShanghART H-Space, Building 18, No.50 Moganshan Road, Putuo District, Shanghai
Contact: info@shanghartgallery.com | www.shanghartgallery.com

ShanghART Gallery is pleased to invite you to come to LIU Weijian's Solo Exhibition, Under the Sun, which will open on March 22 in ShanghART H-Space and lasts until April 24.

More than 20 acrylic paintings created during 2011 and 2013 will be presented this time. As curator and art critic Demetrio Paparoni writes for new catalogue, LIU Weijian has managed to catch and subtly revealed the emotions and feelings filled the journey that is the hotness of day, thirst, the coldness of the night, the worry of getting lost, and the fear of moving forward. In such a double journey of both reality and inner world, "(the artist) lacks a specific purpose. Instead, they are animated by a tension with something that is not clearly defined, and they find their purpose within themselves. "

Born in Hunan in 1981, LIU Weijian now lives and works in Shanghai. He graduated from Shanghai Normal University of Art (2005). Recent exhibitions include The Idea Before Sunrise, Galería Yusto, Giner, Malaga, Spain (2012); Farewell my Country - LIU Weijian Solo Exhibition, Gallery Louis Vuitton Maison, Hong Kong (2011); China Power Station, Part IV, Pinacoteca Agnelli, Torino, Italy (2011); Antenna – Solo Exhibition, ShanghART Gallery, Shanghai (2010).
---
Press Kit
Click to Download
More Pictures:
Exhibition View
Close-up View of Works
Press release
Related Texts:
Related PDF:
Works Exhibited :
Related Publications:
---
上海香格纳文化艺术品有限公司
办公地址:上海市徐汇区西岸龙腾大道2555号10号楼
© Copyright
ShanghART Gallery
1996-2022

沪公网安备 31010402001234号