LIANG Yue: The Quiet Rooms
Solo Exhibition
ShanghART H-Space, Shanghai
Date: 12.05, 2013 - 01.07, 2014
Artists:
LIANG Yue 梁玥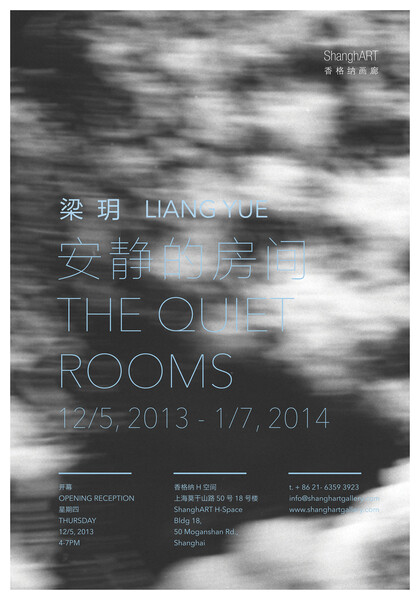 Duration: 5 December 2013 - 7 January 2014, Daily 10AM-6PM
Opening: 5 December 2013, 4-7PM
Venue: ShanghART H-Space, Bldg 18, No. 50 Moganshan Rd., Shanghai
Artists: LIANG Yue
Contact: info@shanghartgallery.com | www.shanghartgallery.com

On 5 December 2013, LIANG Yue will present her second solo exhibition The Quiet Rooms at ShanghART H-Space. Since her first exhibition at ShanghART back in 2003, the artist has been developing her visual language in the past ten years mostly through photography, video as well as video installation. LIANG Yue explores the usually ignored aspects of daily life and has never stopped questioning. Her images are highly experimental and subversive, revealing an extraordinary tenacity and dedication. Whether it is through photography or video, LIANG Yue contemplates seemingly boring everydayness, scenes of so-called meaningless triviality and eternal natural sceneries which is often deemed worthless. Yet, it is exactly those neglected that are continuously captured by her lens, recorded and tracked down, and appear ultimately in a very philosophical affirmation. In the last fifteen years of her career, LIANG Yue constantly simplifies and refines her artistic creation by, for instance, reduction of movement of the lens, less video editing and even using only one shot in video with sound eliminated. This approach causes a kind of final purification which renders her artworks almost meditative. In this solo exhibition, the audience can follow the artist into her creation of The Quiet Rooms, where one can forget the hustling and bustling of the city and get its share of tranquility. This kind of experience ensures the viewers likewise to follow the artist's recent examination on life, to ponder on the ordinary, which is ignored yet so lively in its quiet way, and to question the so-called meaning and value of artistic creation.
---
Press Kit
Click to Download
More Pictures:
Selected Press:
Money Journal, 9 Jan 2014, Light, but not Shinning-Liang Yue's Art

Related Texts:
Related PDF:
Works Exhibited :
Related Publications:
---
上海香格纳文化艺术品有限公司
办公地址:上海市徐汇区西岸龙腾大道2555号10号楼
© Copyright
ShanghART Gallery
1996-2019

沪公网安备 31010402001234号